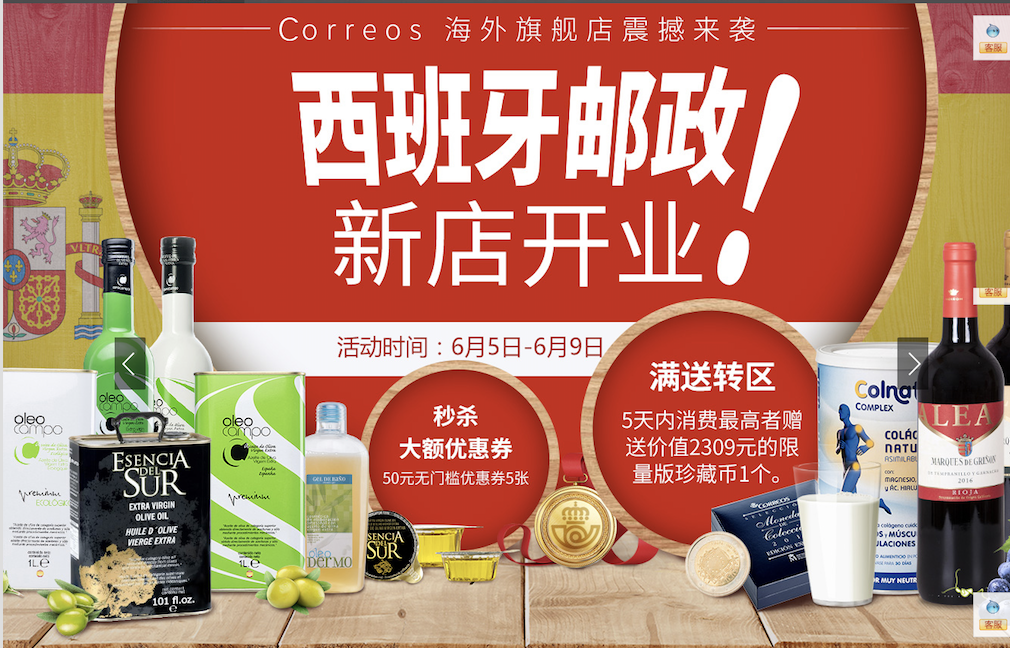 Recently, Spanish post office Correo launched its oversea flag shop on Tmall global(an online B2C platform under China Alibaba Group) and started the trial operation. All the products sold in this flag shop come from major local brands in Spain and will be directly sent from the Spanish local brands' warehouse to China.

Last year, Alibaba's Cainiao network announced the strategic collaboration with the Spanish post office Correos which significantly push forward the cross-border business and logistics services. After the flag shop is established, the delivery will be very convenient and fast. A staff working in Correos said "All the brands shown up in our flag shop are selected through deliberate consideration." Since Correos has major advantage of its domestic logistics service in Spain, it only takes 7 to 14 days for Correos to deliver the products from the warehouse, transfer them to EMS and finally arrive at buyers' designated address. Buyers can track the information on both Correos and EMS websites.


The brands in the Correos flag shop include:
Oleocampo: a high-end olive oil made in Spain
Colnatur: a protein powder brand with protein powder products suitable for both sports fitness people and middle aged people.
ART: a Spanish fast fashion shoe brand
Neosens: one of the high-end shoe brand from La Rioja, Spain
Marques de Grinon: one of the high end Spanish wine brand
Correos: main products are stamps and commemorative coin collection
However, Correos is not the first foreign country's postal service company that launches Tmall global shop. UK's Royal Mail,  Australia Post and Northern Europe's Post Nord have already had their Tmall global shop online.