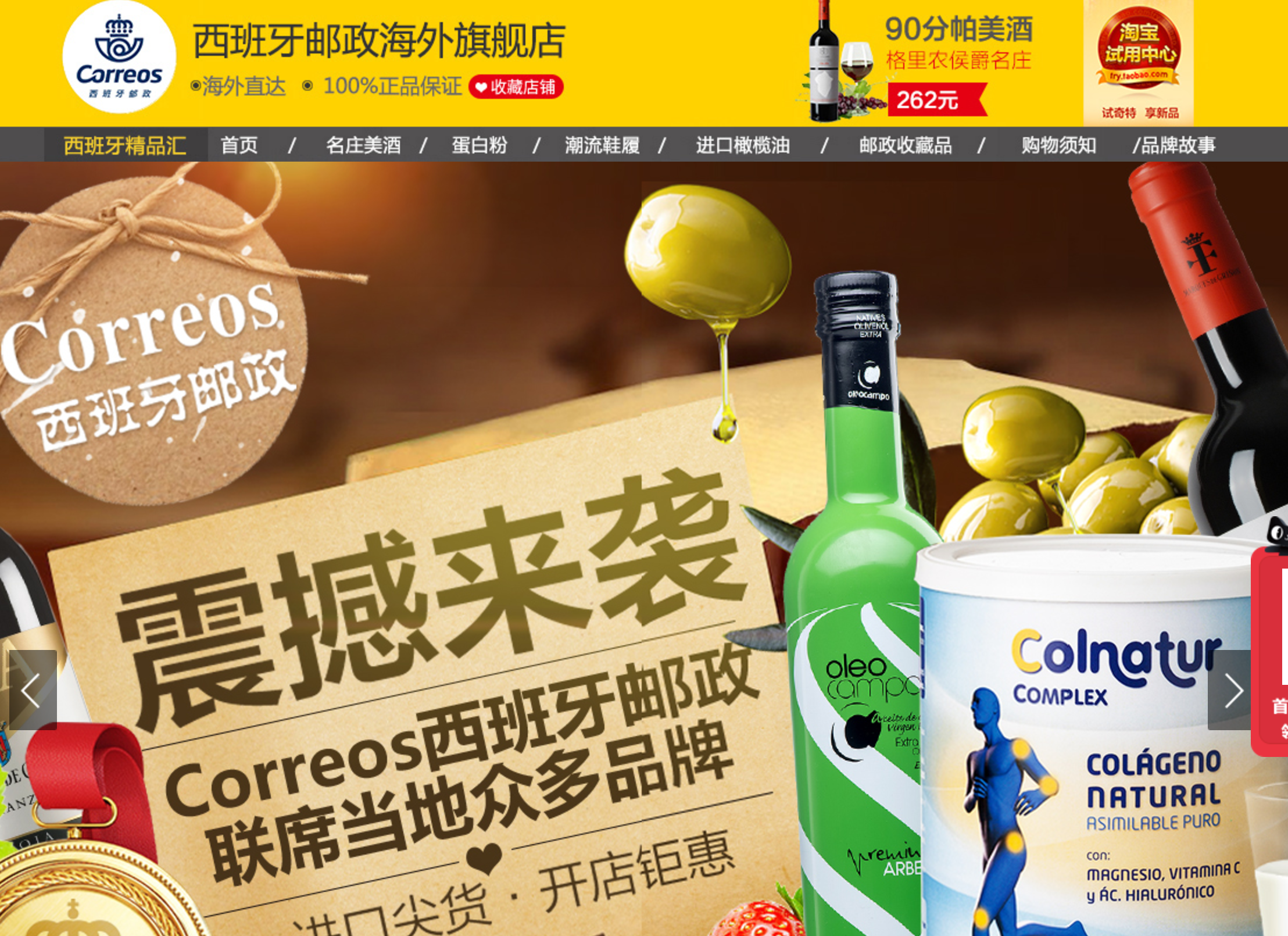 After the grand opening of Correos cross-border shop on Tmall global in June, our team did a purchase and tested the shopping experience. Here, we will share  what is it like to purchase in Correos cross-border shop:
First of all, the brands sold in Correos shop are mainly famous local Spanish brands and have not registered in China yet. Therefore, these brands joined together and sell to Chinese customers in this novel model.
After searching in this shop for a while, we decided to purchase a box of olive oil as Spanish olive oil is known with high quality and good taste.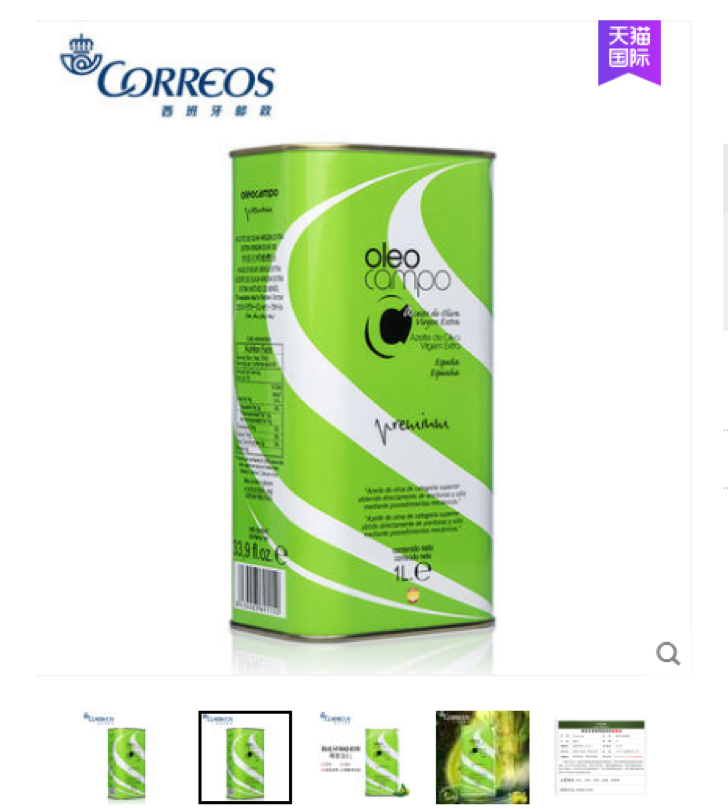 Then, we started chatting with the customer service to ask for more details of this product. The shop sales replied us immediately. He told us the Correos cross-border shop has a local office in Hangzhou, China, however, all the products are in Spain and will be shipped directly from Spain to China.  He also told us that lead time is within 3 days and the delivery time is around 7-14 days depending on various factors such as weather, traffic etc.
After all, we still decided to purchase this product and decided to pay and check out. There is personal cross-border purchase quota. We advise you to check it in here http://ceb2pub.chinaport.gov.cn/limit/outIndex before you make any purchases. Then, the buyer required us to submit a scanned copy of our ID, which will be used in the customs to clear the goods at the border.
Due to the long shipping distance, the shop does not take return merchandise. For testing, we finished payment and received a tracking number, which we can use to track our package online. For our order, we found out that the lead time is 2 days. After more than one week's waiting, we finally received our olive oil 10 days after departure. Compared to our previous shopping experience on Tmall domestic, it feels slow but still within the time range they promised.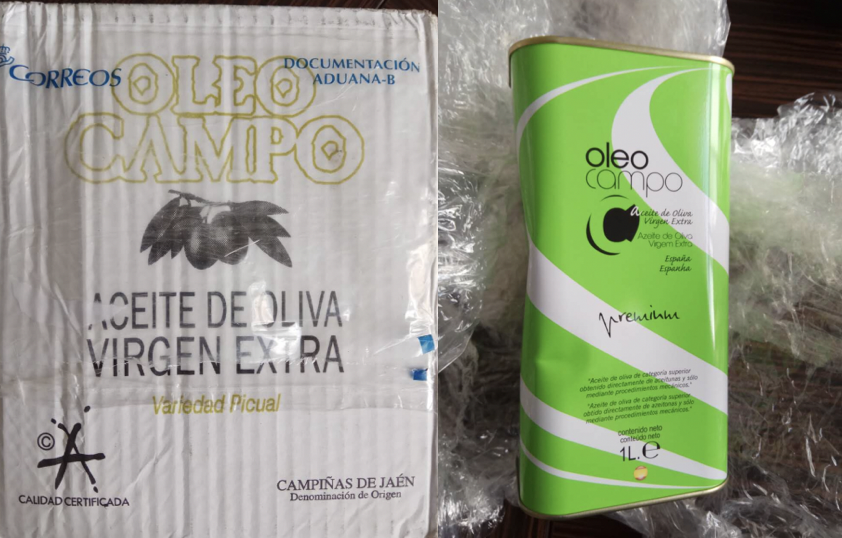 Unfortunately, our products exterior package is a little bit deformed probably due to the cushion put inside the package box is not enough. We sent a complaint to the customer service of Correos cross-border shop immediately.They were also sorry for this and decided to compensate 20 RMB to us.
In general, we have a very satisfying purchase experience on Correos shop on Tmall global except for the relatively long waiting time.
In conclusion, start selling in China with 2Open in a record time. Most of the actual medium sized cannot, literally, afford to wait for bureaucratic complexities, licenses, or customs.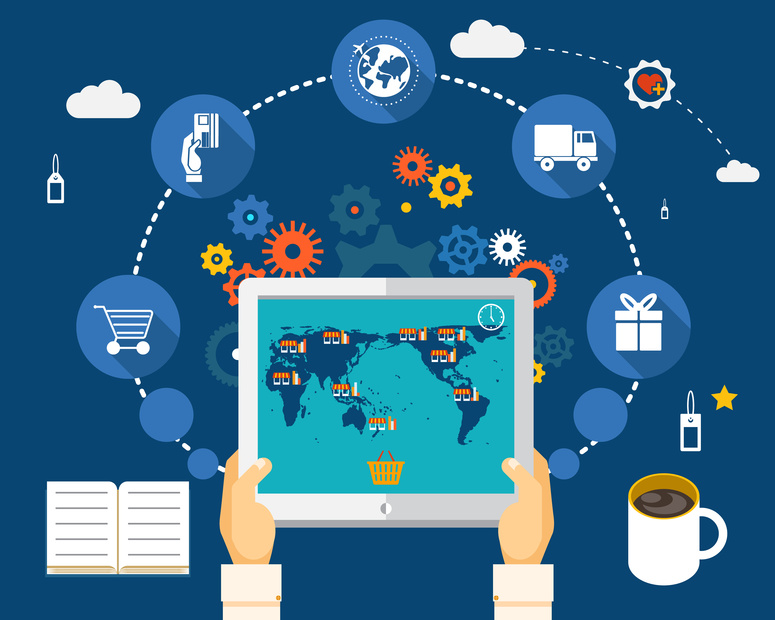 Nowadays cross-border ecommerce is in the rise in China. It seems to be a viable and legal way to import or export products into or out of China avoiding significant tariffs and quotas. Apart from the traditional model of cross-border ecommerce, that is, overseas online shopping, we have classified 4 specific operational models of cross-border ecommerce according to their different business schemes.
Overseas online shopping
Direct delivery platform
Self-support B2C model
Guide and rebate shopping model
1. Overseas online shopping
Overseas online shopping is perhaps the one that is most familiar to Chinese consumers. It is a sort of procurement service for people who want to buy the overseas products. Consumers purchase the products from foreign retailers or individuals on web pages or mobile apps, and then they get the product by transnational logistics. There are two major ways so accomplish this.
Online shopping platforms
One of the main points an online shopping platform has to do is to attract third-party sellers who meet the logistics requirements. Sellers settled in the platform usually have overseas purchasing power; they regularly purchase the specific product based on consumers' needs and after the order is received from the customer they transport or mail the product directly to China. This is a typical example of a C2C model, the online platform profits from access fees, add-value services, and transaction fees imposed to the seller.
Representative platforms: G.TAOBAO.COM/JD WORLDWIDE/USASHOPCN.COM
Wechat "moments"
"Moments" in Wechat is becoming a popular way for promoting products online. Although its warranty is mostly based on social relationships, fraud could also occur. With customs restrictions the service would be regarded as smuggling, so there still time to wait for the integration of it in the overseas online shopping environment.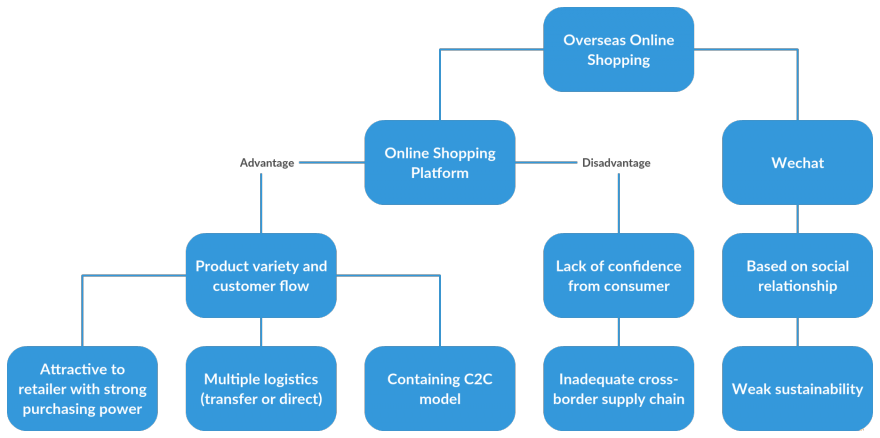 2. Direct delivery platform
Direct delivery platform, also named "dropshipping", is a model in which the ecommerce platform sends the order from the customer to the manufacturer or wholesale directly, then the latter delivers the product to the customer according to the information provided, it is important to notice that the product is sold with its retail price. Because the end-supplier is the brand vendor/factory, this model could be considered a B2C model. In this case, most of the profit for the direct delivery platform comes from the price difference between the retail price and the wholesale price.
Representative platforms: TMALL.HK/YMATOU.COM/KJT.COM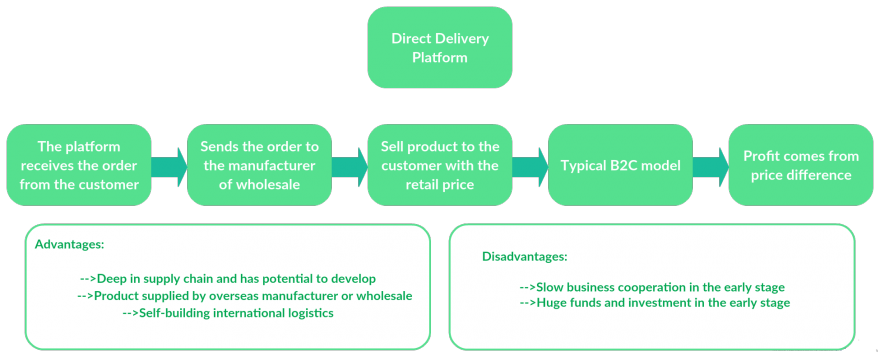 3. Self-support B2C model
When it comes to the self-support B2C model, most products need to be prepared by the online platform before shipping. There are two types of self-support B2C platforms:
Comprehensive self-support B2C platform
For now the only leading comprehensive self-support B2C platform is YHD.COM, which is supported by Amazon and Wal-Mart.
Vertical self-support B2C platform
This model means that the platform focuses more on a certain area to choose the product category, such as food, luxury product, cosmetic or clothing.
Representative platforms: WOMAI.COM/MIA.COM/SASA.COM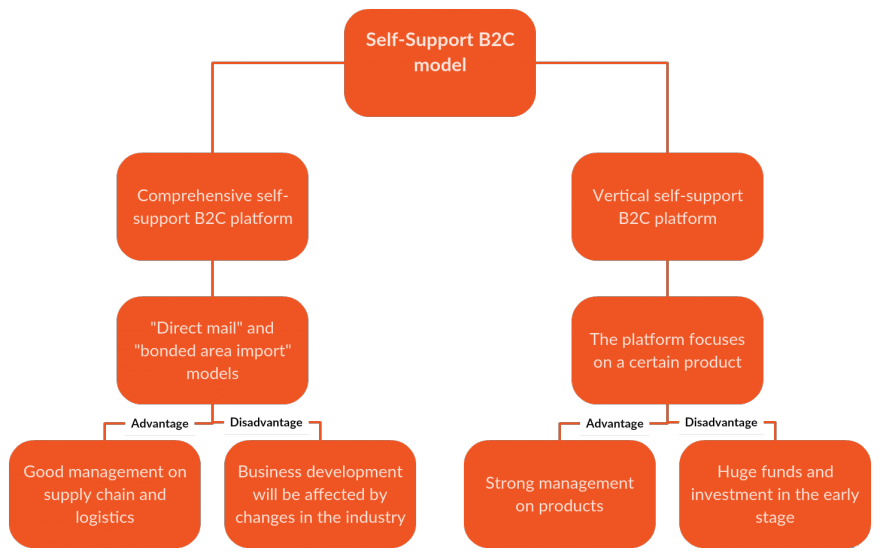 4. Guide and rebate shopping model
For a simpler understanding we will split this topic into two parts, the conduction part and the transactional part. Conduction refers to all the means and channels through which customers are led to the product or service: news, online forums, blogs, or ads, all constitute a part of conduction and focus on attracting the consumer. As for the transactional part it involves the submission of the order to an overseas retailer and any monetarily transaction that comes with it.
In order to guarantee product quality and adequacy, this types of platforms usually cooperate with an overseas ecommerce group. Normally the guiding/rebating platform in China joins their pages with the overseas ecommerce pages and once the transaction is done, the overseas ecommerce gives about 5%-15% commission rebate to the Chinese platform. Later the guiding/rebating platform refunds part of the commission to the customer.
One of the main advantages of this model is that the integration of new products and the development of the business itself are relatively simple. Also, because it is a joint between two online platforms, the conduction part results more rewarding since both parties can attract a huge number of customers in a short amount of time and meet the customers' demands.
As for the disadvantages, long-term projects might be a bit more difficult to carry out since the business depends on two separate ecommerce platforms. Management of the supply chain could also become a problem due to distance and time zone differences.
Representative platforms: ETAO.COM/HAITAOCHENG.COM/123HAITAO.COM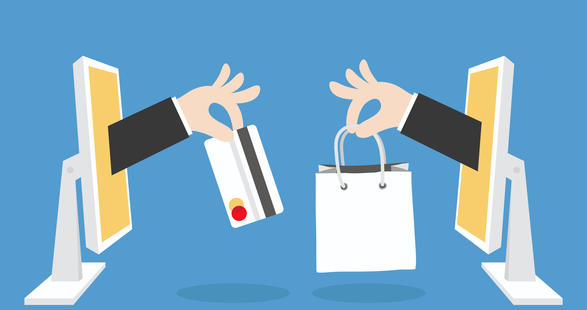 Cross-border negotiations seem to bring a lot of advantages if one is intending to do business with China. Choosing the right model for your business' needs is crucial for the growth and success of it. Here at 2Open we have plenty of experience with these types of business models and our team of specialists will be more than happy to assist you with any enquiry that you might have.
This article was edited by Andres Arroyo Olson from 2Open.