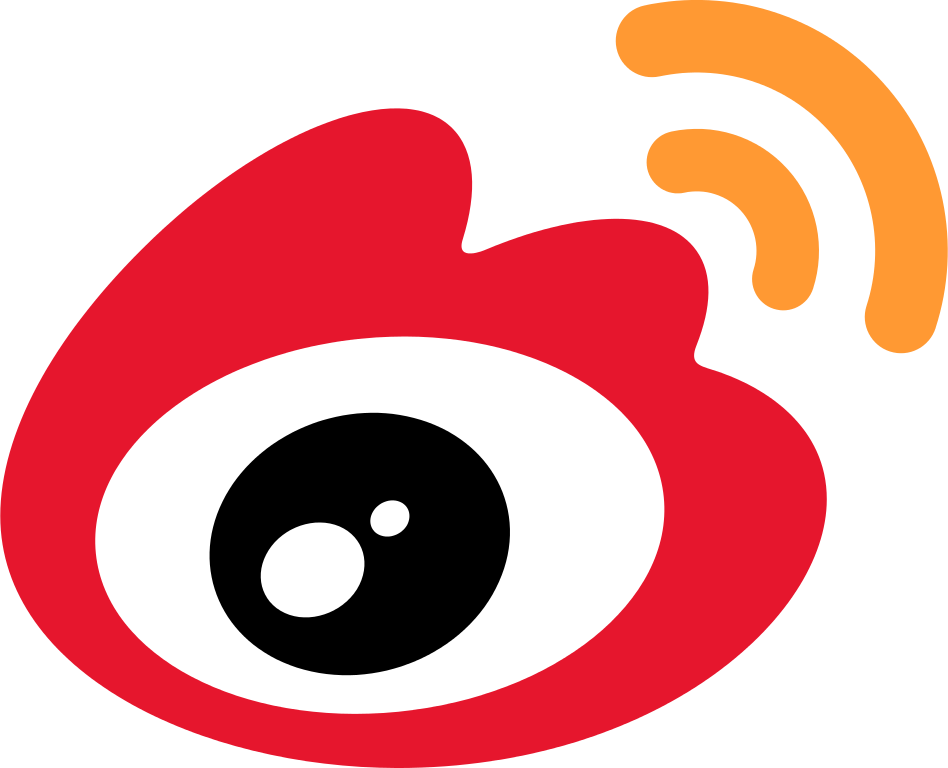 There are plenty of Social Media platforms in China: while a few achieve great success, many succumb to a highly competitive scenario.
Result of its dynamism, it is essential to keep attention on the changes that China faces in the digital world.
From 2 Open, we have prepared a brief introduction about Weibo´s current situation.
Our goal is to give you some tips to fully understand what is going on with one of the biggest Chinese Social Media.
Do not hesitate to contact us for a more thorough analysis!
---
Weibo is a Social Media platform to produce, share and find out Chinese-language content.
As a leading platform, provides an easy way to express in real time and interact with people and corporations.
Its importance is not only due to its capacity to be an official/unofficial news source, but also because it allows people to express themselves in a public way.
---
The doomsayers come into the picture
Currently, Alibaba is the biggest Chinese e-commerce company: it provides C2C, B2C and B2B sales services via web portals, plus electronic payment services, a shopping search engine and data-centric cloud computing services.
Three years ago, Alibaba bought 18% stock of Weibo. Since then, several media have speculated that Weibo or even Sina might be acquired by Alibaba in a short time.
Encouraged by the rise of Wechat, many marketers have predicted the fall of Weibo. Well, the latest Earnings report proves they were wrong.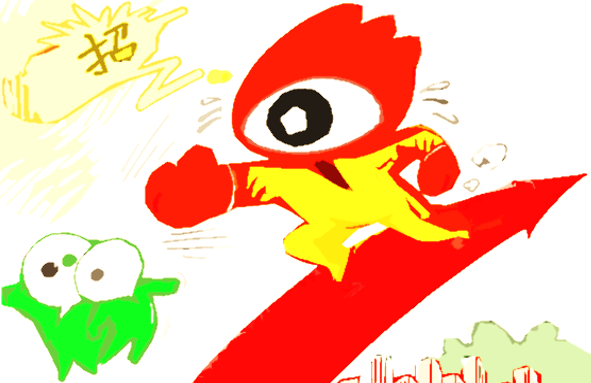 ---
Is Weibo on the way out? Let the Earnings speak the truth
According to official Earnings Report of 2016 Q2 from Sina Weibo, the Net profit of 25.9 million dollars (net revenues of $ 146.9 million) increased 516% compared to the same period last year.
Moreover, Weibo 2016 Q2 data shows the Total revenue of Weibo is 146.9 million, including 127.2 million revenue from Advertising business, value-added services $ 19.7 million for value-added services.

Let's review the users' data on Weibo now
Monthly Active Users –MAU- is 282 million, increase 33% compared to the same period of last year. In addition, Daily Active Users –DAU- is 126 million with 36% increase compared to same period of last year.
Is noteworthy that 89% of them are mobile users.
---
The progress is closely related to their own media advantage
Three years ago, relying on its social communication advantages, Weibo attracted $ 600 million of Alibaba, while became an effective channel for celebrity campaigns, events, marketing and other commercial activities.
After that, Weibo focused on the advertising model. At the end, it decided to put aside Alibaba and manage the business alone.
In 2016 Q1, advertising investment from small and medium enterprises increased 147%. The quantity of SME's and self-service advertisers reached 830K with 25% increase compared to previous quarter.
In 2016 Q1, investment in small and medium advertising revenue grew 147%, the number of SMEs and self-service advertisers reached 830,000 and a 25% increase the previous quarter.
---
Why both SMEs and big brands value Weibo a lot?
Both leverage it as an important channel frequently, specially because:
Increase of traffic and users with 282 million MAU
Optimized Algorithm of Ad Platform
Active Internet Celebrities
Live-streaming
---
The outbreak of short videos
We should add that speaking of its development path, the outbreak of short videos is also a milestone of growth of Weibo.
According to the 2016 Q2 Earning report, the playback amount of short videos on Weibo has increased 200%.
Meanwhile, the Internet celebrity economy is rapidly booming. Based on short videos, live-streaming broadcast and e-commerce, Weibo occupies the core position of social media with its incredible social power.
---
Margin improvement for future
The operating leverage will keep being prominent in the future. Based on the non-GAAP, the operating Margin rate of Weibo was 23.6% in the second quarter.
It is expected that the Weibo´s operating Margin rate could reach 25.2% in the third quarter, 23.4% in 2016 financial year, and 28.7% in 2017 financial year.
After seven years, Weibo proves to the world its strength and influence.
---
Do you still think Weibo is on the way out?
Our Digital Marketing and Ecommerce Agency have the experience of a team dedicated to know in depth the Chinese Social Media.
If you are looking to push your sales in China, do not hesitate to contact us.
Moreover, if you are interested in receiving to your mail the latest trends of Chinese Social Media, please suscribe to our monthly Newsletter!

This article has been edited by Paula Vicuña, from 2 Open.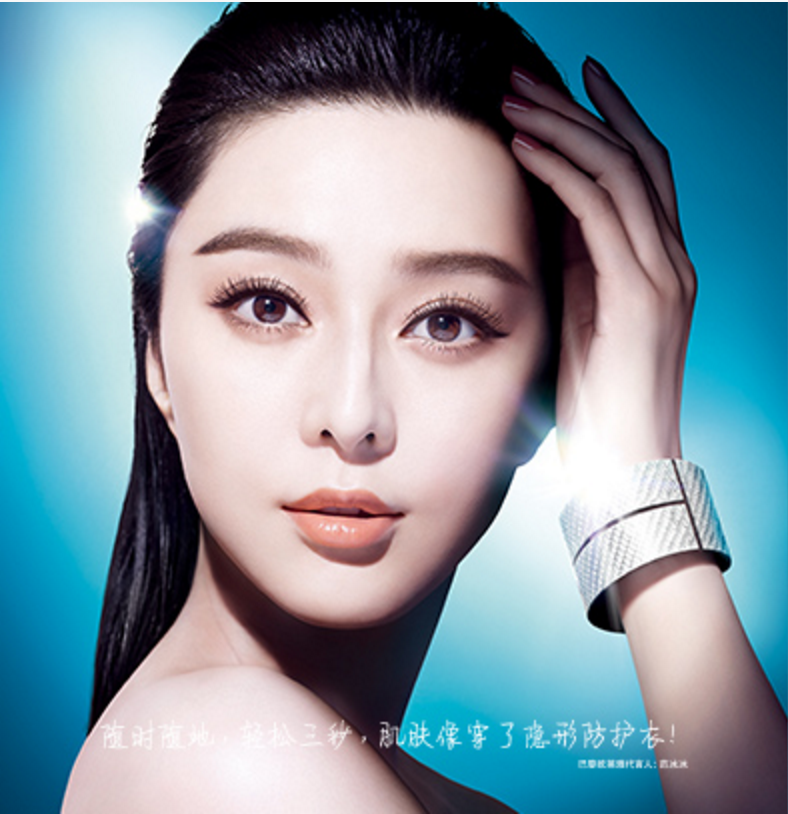 In the first half of 2015, L'Oreal's financial statement reported revenues of 12.82 billion euros worldwide. In comparison with 2014, there was an increase of 14.7%, which is the fastest growth that the company has had in the past 20 years. Its digital marketing campaign was not the exception, with an outstanding 40% increase in online sales, exceeding 1 billion euros; it represented 5% of the company's total turnover strengthening its position in the online market.
Nowadays, in the cosmetic & beauty industry, 70% of customers search products online before they actually buy them, which means that social media must play a big role in this. Why? You might be wondering, well, the importance of knowing consumer's needs and preferences enables companies to come up with tailored ads and maximize their marketing budget. Many industries have transitioned from the classic marketing model into its modern version to further understand consumers and optimize results.
It seems that the upcoming era is digital, the society now is constantly connected with their mobile phones, and people are interacting on social media all the time. Most Chinese people love to share moments of their daily life via Weibo or Wechat, these social mobile applications gather a lot of Chinese young people who are potential online buyers, this is one of the main reasons why this new consumption model results so profitable.
Taking all of this into account, L'Oreal, the global beauty brand, keeps track of trends and maintains strong competence in the Chinese online market. The business credo for the marketing industry "where are the consumers, where are we" is practiced well by L'Oreal. In fact, in the digital marketing revolution, L'Oreal is not only expanding its e-commerce channels, they also apply a complete strategy to digital marketing.
All the product and services have to be digitalized
For instance, on the CES conference in Las Vegas, L'Oreal released a patch for sun-induced skin damage – My UV Patch, helps users track real-time ultraviolet exposure damage on the skin with the help of an App. In addition, L'Oreal has also launched a mobile App called Makeup Genius. The App can help users find their own appropriate makeup. Most Chinese people are shy and they do not dare to try exaggerated makeup, with this App users can try hundreds of makeup options and share on various social platforms. In the future, L'Oreal will try to launch more service-oriented App.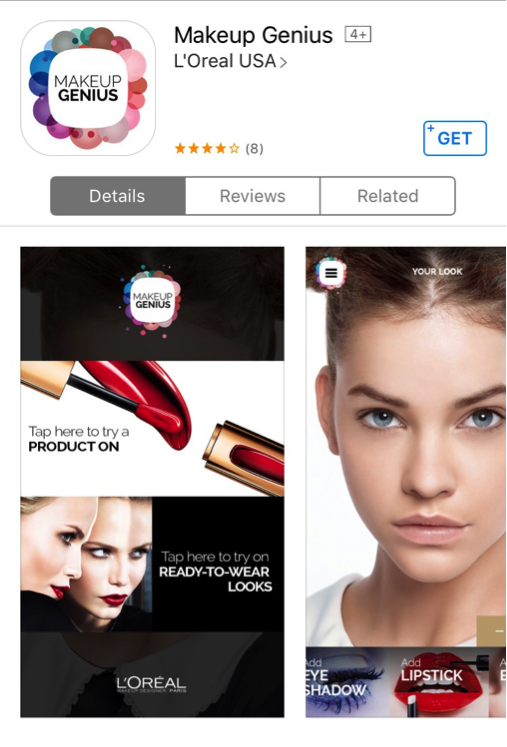 -L'Oreal APP for IOS
Digital involvement into every step of decision-making
In the buying decision process, customers experience 4 steps: identifying, considering, purchasing, and sharing. L'Oreal gets involved in every step of the process. For brand awareness, they launched a video advertisement on the entire media platform of Weibo and Wechat. For the decision-making stage they issued a series of makeup tutorial videos on Youku and finally let the users use social media to share their purchasing experience. With this, the entire consumer decision-making process is digitized.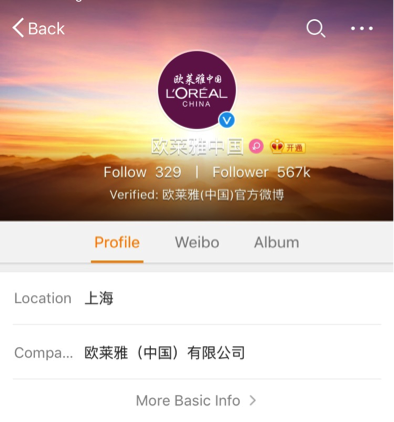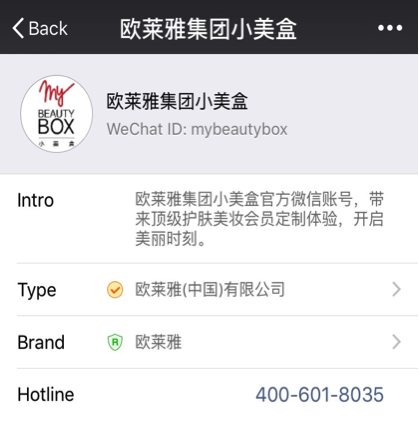 -L'Oreal official account on Weibo and Wechat
Take this case for example, in the 2015 Cannes Film Festival; L'Oreal launched a video advertisement on Wechat, where L'Oreal's stars would post their pictures and voice message saying "I am in Cannes, will you come? " and a link to L'Oreal's e-commerce page. Through this event L'Oreal attracted a lot of fans and potential customers, and the brand's social influence was digitalized.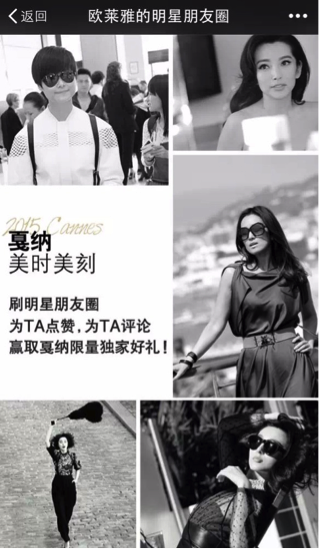 -L'Oreal Cannes Event on Wechat
All brands on digital platforms
Based on the first two points, L'Oreal Group including Lancome, Maybelline, L'Oreal Paris and other brands, try to position themselves, as much as possible, on various digital platforms, that is, "where are the consumers, where are we". Since, nowadays, almost all of the customers are online, L'Oreal has to be searched and discussed as much as possible by customers in order to gain more popularity in the digital world.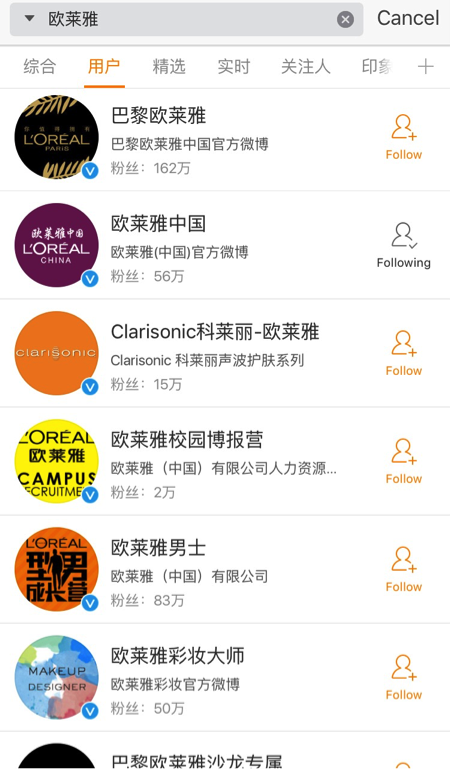 -L'Oreal brands on Weibo
When analyzing L'Oreal's digital marketing strategy, it is worth noticing that this giant enterprise takes digital marketing as a key element of responding to the rising demand among beauty consumers. The O2O (online-to-offline) model gradually drives the enterprise transforming it into a new business model. Digital marketing could not only develop a new market but also help to create a new CRM (Customer Relationship Management) system for other companies. We believe in the future and Chinese digital marketing will become more and more important in the following years.
Have you learned Chinese yet?
If you have any questions or require any information about our services, please do not hesitate in contacting us, our group of specialists will happily assist you.
This article was edited by Andres Arroyo Olson from 2Open.