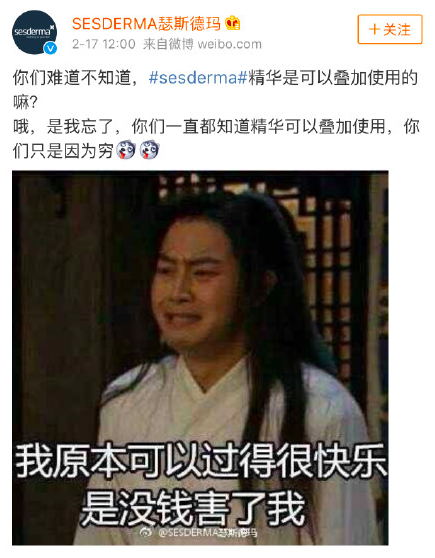 With almost 400 million monthly active users by the end of 2017 on Weibo, without a doubt, every foreigner brand would consider Weibo as an important social media channel to build up awareness in China. We can imagine if one brand could appear on the top search topics, it may be because they have successfully created a big issue, but on the other hand, the popularity maybe also comes from unexpected negative feedbacks which a small issue could turn into a serious PR disaster in the blink.
We can always learn from other's case and prepare tailored social media crisis management for our own brand in advance, and this time we learn from Sesderma's experience.
Sesderma hit No.27 on the Weibo top search topics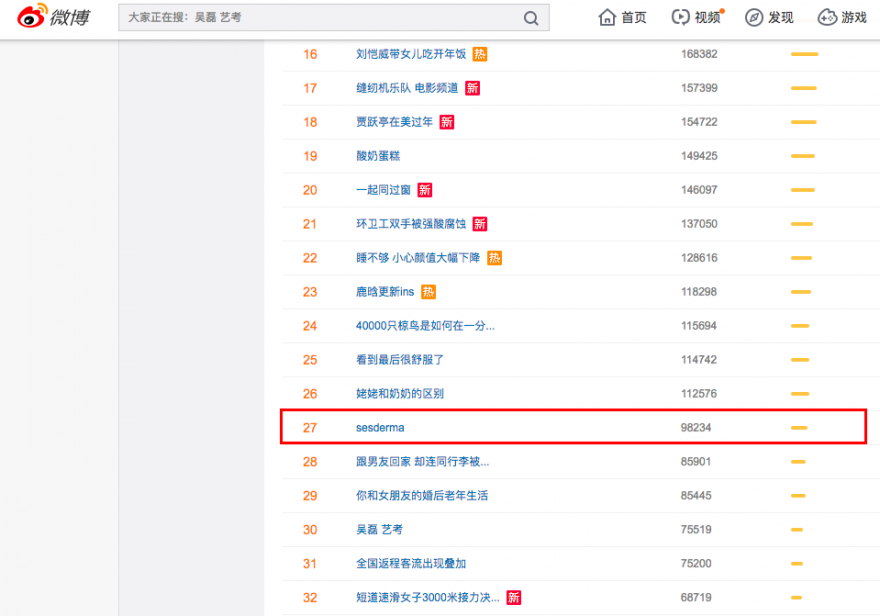 On the daily social media monitoring, we found that Sesderma, the well-known Spanish dermocosmetics brand was on the hot search list on Weibo, but they were dealing with the crisis out of a careless mistake in China. Their account has more than 7,000 fans, but the brand name search volume was 14 times more, we can assume the negative news brought in lots of people who aren't familiar with the brand Sesderma before. What caused the PR crisis exactly? Let's get back to where the issue started.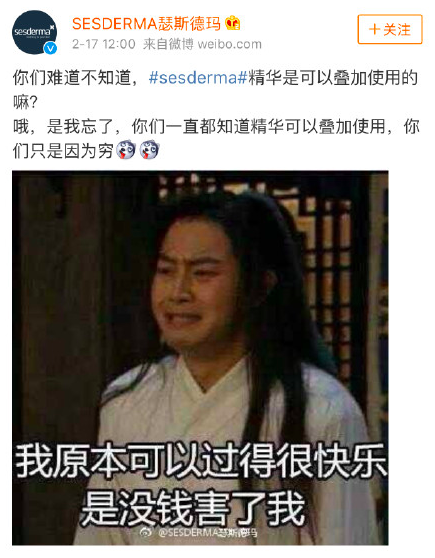 2/17 12 pm: Sesderma's controversial post
Their intention was to educate the fans how to apply their product for a better result and created the post in a soft and self-deprecating way, but the critical part is they said "you" are poor and "you" don't have money, so they misled the perspective and turned out to discriminate against the fans. Unfortunately, since then, the post started to accumulate passive comments in a quick-speed.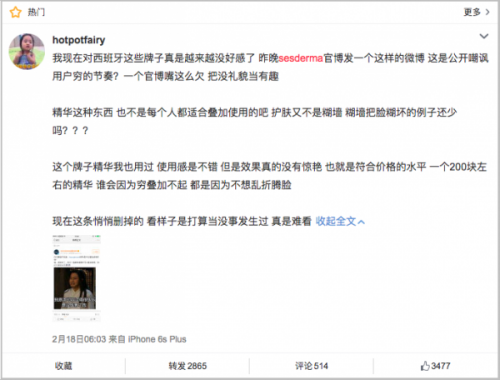 2/18 6 am: One user posted the negative feedback about Sesderma's post (share:2,865 / comments:514 / likes:3,477)Not only the improper content, but the way Sesderma managed the issue. The user found Sesderma directly deleted the original post and without responding to fans' anger. The post just went viral afterward, and it easily pushed Sesderma on the hot search list on Weibo.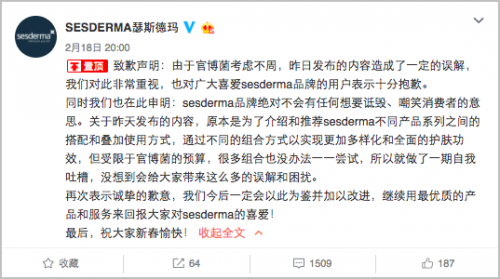 2/18 8 pm: Sesderma apologized sincerely to their fans
After waiting for more than one day, Sesderma had an official post to apology for their careless mistake. According to the comments, most of the fans could accept and left their support notes, but Sesderma continued to occupy the hot search topic position, until late afternoon on 2/20. Social media crisis comes easily, but it's definitely hard to disappear.
3 takeaway to prepare crisis management on social media in China
1/Respond timely and as long as the mistake is confirmed, a sincere apology and open communication is needed
In many cases, actually, the crises are avoidable, if we can manage the potential crisis timely, and organize the crisis management team if necessary with members from involved departments, to create a open dialogue with fans within 24 horas.
2/Self-deprecating humor is easily taking over on social media, but extra care and attention for this kind of content is crucial
Sometimes self-deprecating humor is delicate, it's better the content can be viewed and checked by different people to taste the respond. And keep the first person perspective clearly through whole content, as we can see in the Sesderma's case, as long as you change the perspective, self-deprecating post could backfire quickly.
3/Chinese local team represents the foreign brand in China, so it's important to work closely with headquarter to deliver the brand value
Even though many foreign brands have local subsidiary or agency to execute all the Chinese market marketing communications in China, but work integrally and have regular meeting is essential to keep both parts on the same track towards the ultimate success.
---
If you are interested in developing business in China through online marketing and e-commerce, 2 Open are glad to listen to you, please feel free to contact us by e-mail: INFO@2OPEN.BIZ, or just leave us a message below, we will get back to you as soon as possible.