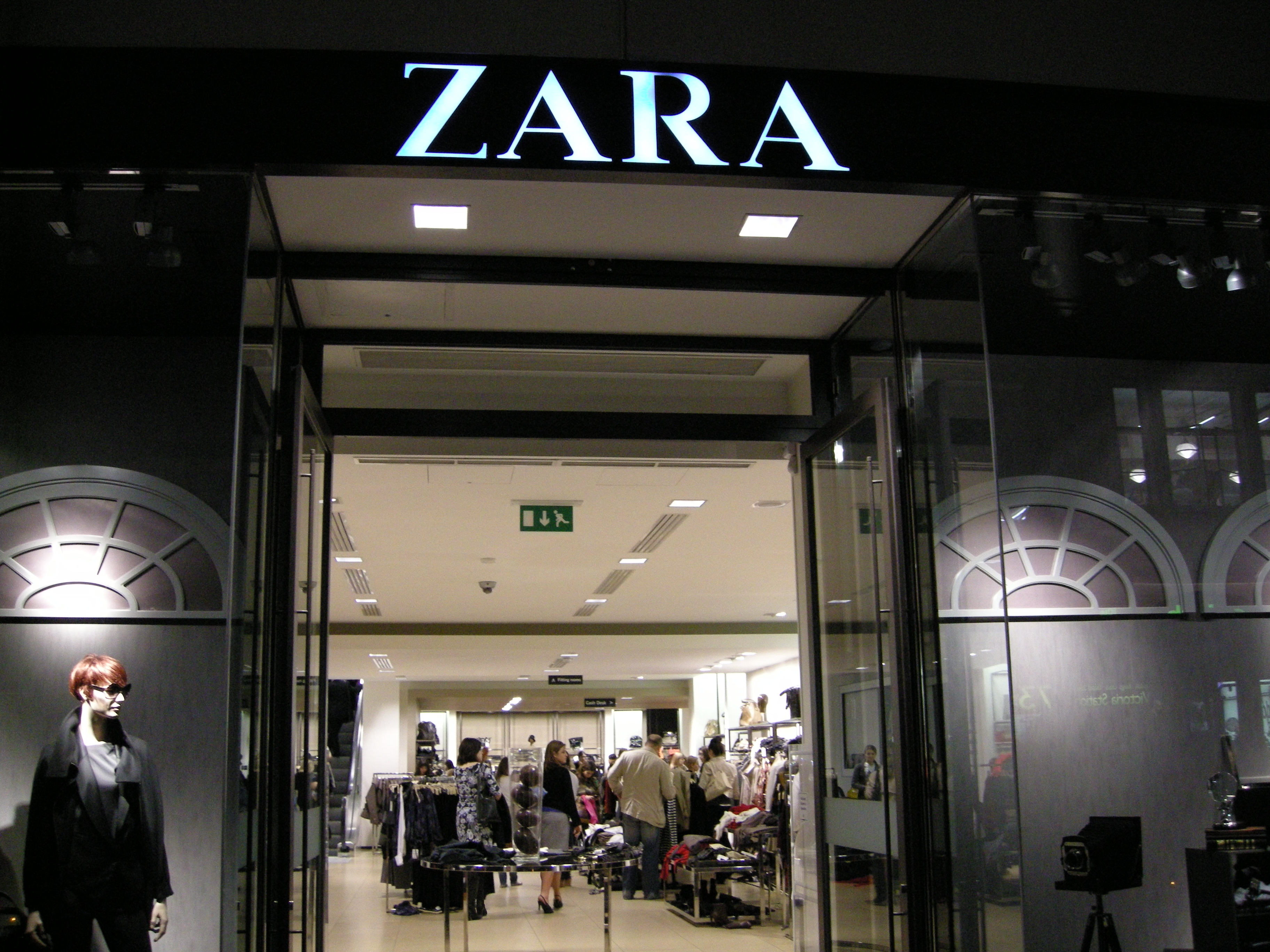 Since first arriving to Shanghai in 2006, ZARA has had incredible achievements in the volatile Chinese fashion industry. Etam and Ochirly used to be considered as the "King and Queen" in this sector with the vast majority of the market share, however ZARA's arrival crashed down this obsolete structure. In 2014, ZARA reached the top fashion brands in China, earning twice the revenue of Etam.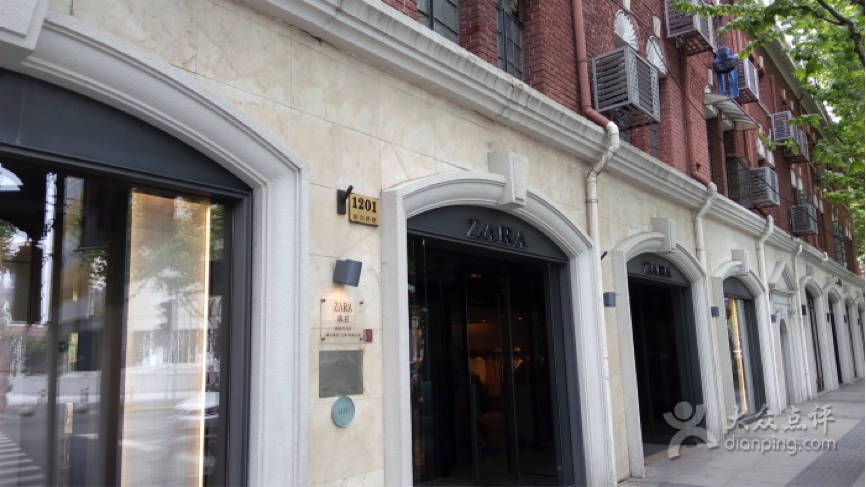 -Zara's first Chinese store at Nanjing West Street in Shanghai.
In the same year, ZARA opened its official flagship store on T-mall. This is not the first step ZARA takes towards the Chinese digital market, in 2012, ZARA set up its own online shopping website "The ZARA China" and also published an m-shop application"ZARA".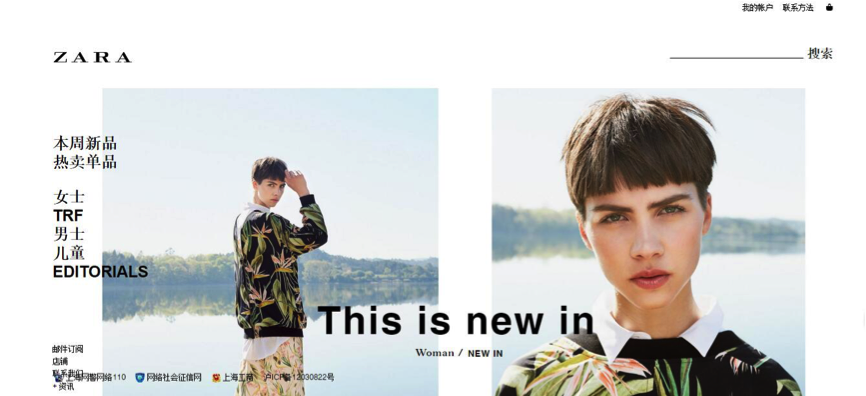 -ZARA China carries on with clear style.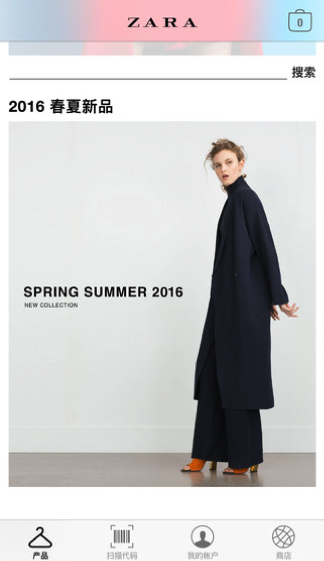 -ZARA's mobile application for IOS.
Despite all of this, the big brand's official website is often tasteless, sort of similar to the one from Dell. Dell's official Chinese website actually used to be the largest e-commerce platform, however, nowadays it has become a more passive marketplace. Apple is also a good example to illustrate this, its official e-shop is beautifully decorated, nevertheless,  Chinese users rarely to buy any products on it.
The main reason for this is because e-commerce not only involves the build up of a simple website. It requires collaboration throughout the supply chain, especially the logistics, and of course,  the follow-up services.
For many international brands, including ZARA, the option of building up the infrastructure to cover the broad Chinese market is perhaps not as profitable. Thus, it is essential, and  more appealing, to cooperate with the third-party platform like T-mall.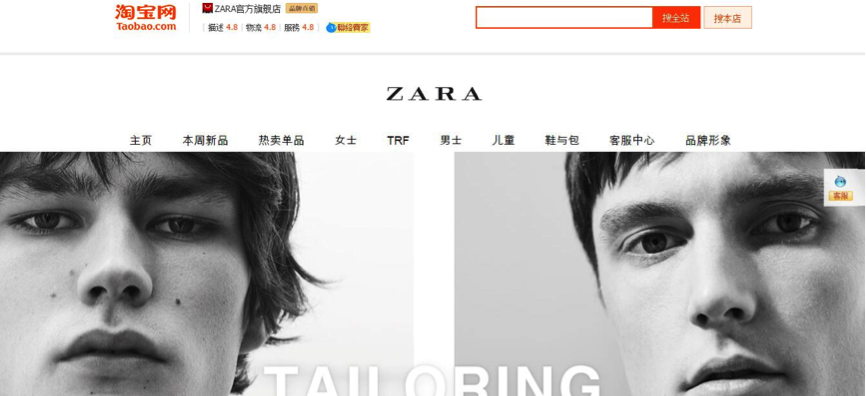 -The frontpage of ZARA on T-mall
Why did ZARA choose T-mall?
Many people thought the main reason was that ZARA wanted to catch up with the "11.11" festival on T-mall, which is the Chinese version of Black Friday. However, based on the opinions of many insiders, the market and the decrease on revenue in 2013 forced ZARA to set a foot on e-commerce.
-In 2013, its growth rate of net profit was less than 1%, which was its worst performance in the past five years.
-For the first quarter of 2014, its revenue increased by 4.3%, but net profit fell -7.3%. In contrast, in the past three years, it has maintained double-digit growth in net profit. When the results were published, Citigroup cut its TSP down from 130 to 120 euros.
-In May 2014, the monthly sales reached 60 million yuan, and consequently in June, the headquarter announced the plan to cooperate with T-mall, saying the shop would officially be settled soon.
-As for 2015, the growth rate on revenue increased 20%, and the market performed positively.
We can safely determine now the main reasons why a big company like ZARA entered the Chinese e-commerce scene. They can be summarized as the following:
E-commerce is a leading trend of buying behaviour in China and the amount of people buying things online is rapidly increasing.
This is a good way to promote ZARA itself on second and third tier cities, as it seldom makes advertisements.
The Chinese e-commerce contributes to the highest growing rate of GDP in the world.
The business model of T-mall and its fellow platforms just fits the needs of ZARA – Small amount but multiplicity.
All in all, e-commerce seems to be the way to go in China and who else to help you than 2 Open. Our goal is to understand our clients business needs in order to provide the best possible services.  If you have any questions or require any information about our services, please do not hesitate in contacting us, our group of specialists will happily assist you.
This article was edited by Andres Arroyo Olson from 2 Open.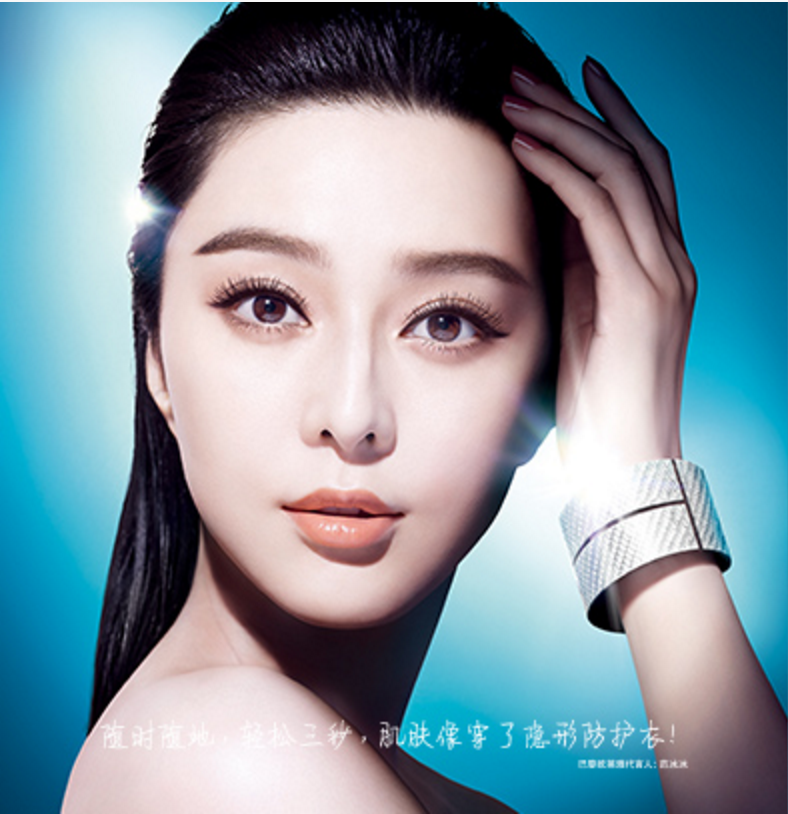 In the first half of 2015, L'Oreal's financial statement reported revenues of 12.82 billion euros worldwide. In comparison with 2014, there was an increase of 14.7%, which is the fastest growth that the company has had in the past 20 years. Its digital marketing campaign was not the exception, with an outstanding 40% increase in online sales, exceeding 1 billion euros; it represented 5% of the company's total turnover strengthening its position in the online market.
Nowadays, in the cosmetic & beauty industry, 70% of customers search products online before they actually buy them, which means that social media must play a big role in this. Why? You might be wondering, well, the importance of knowing consumer's needs and preferences enables companies to come up with tailored ads and maximize their marketing budget. Many industries have transitioned from the classic marketing model into its modern version to further understand consumers and optimize results.
It seems that the upcoming era is digital, the society now is constantly connected with their mobile phones, and people are interacting on social media all the time. Most Chinese people love to share moments of their daily life via Weibo or Wechat, these social mobile applications gather a lot of Chinese young people who are potential online buyers, this is one of the main reasons why this new consumption model results so profitable.
Taking all of this into account, L'Oreal, the global beauty brand, keeps track of trends and maintains strong competence in the Chinese online market. The business credo for the marketing industry "where are the consumers, where are we" is practiced well by L'Oreal. In fact, in the digital marketing revolution, L'Oreal is not only expanding its e-commerce channels, they also apply a complete strategy to digital marketing.
All the product and services have to be digitalized
For instance, on the CES conference in Las Vegas, L'Oreal released a patch for sun-induced skin damage – My UV Patch, helps users track real-time ultraviolet exposure damage on the skin with the help of an App. In addition, L'Oreal has also launched a mobile App called Makeup Genius. The App can help users find their own appropriate makeup. Most Chinese people are shy and they do not dare to try exaggerated makeup, with this App users can try hundreds of makeup options and share on various social platforms. In the future, L'Oreal will try to launch more service-oriented App.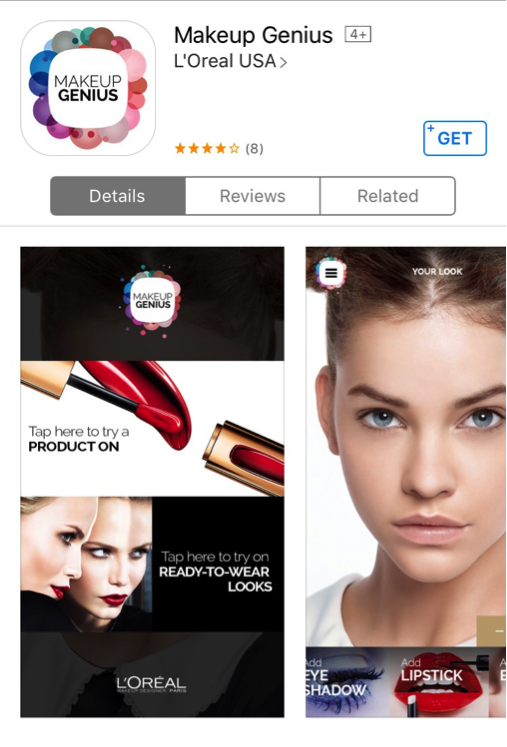 -L'Oreal APP for IOS
Digital involvement into every step of decision-making
In the buying decision process, customers experience 4 steps: identifying, considering, purchasing, and sharing. L'Oreal gets involved in every step of the process. For brand awareness, they launched a video advertisement on the entire media platform of Weibo and Wechat. For the decision-making stage they issued a series of makeup tutorial videos on Youku and finally let the users use social media to share their purchasing experience. With this, the entire consumer decision-making process is digitized.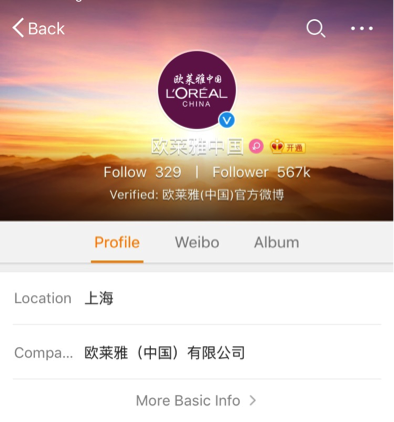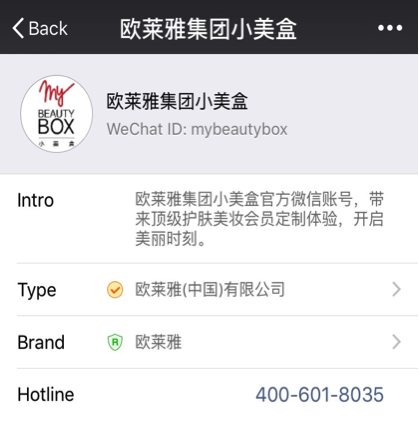 -L'Oreal official account on Weibo and Wechat
Take this case for example, in the 2015 Cannes Film Festival; L'Oreal launched a video advertisement on Wechat, where L'Oreal's stars would post their pictures and voice message saying "I am in Cannes, will you come? " and a link to L'Oreal's e-commerce page. Through this event L'Oreal attracted a lot of fans and potential customers, and the brand's social influence was digitalized.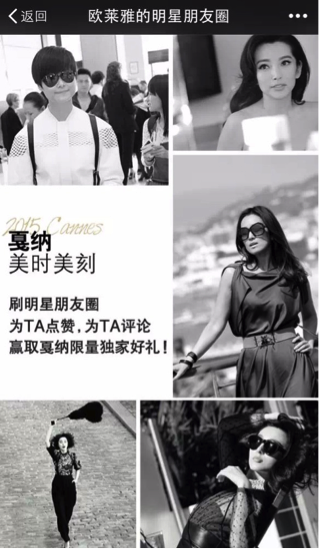 -L'Oreal Cannes Event on Wechat
All brands on digital platforms
Based on the first two points, L'Oreal Group including Lancome, Maybelline, L'Oreal Paris and other brands, try to position themselves, as much as possible, on various digital platforms, that is, "where are the consumers, where are we". Since, nowadays, almost all of the customers are online, L'Oreal has to be searched and discussed as much as possible by customers in order to gain more popularity in the digital world.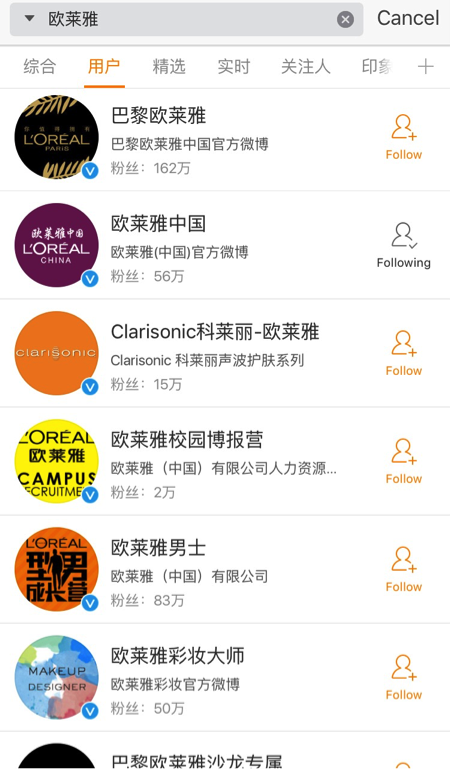 -L'Oreal brands on Weibo
When analyzing L'Oreal's digital marketing strategy, it is worth noticing that this giant enterprise takes digital marketing as a key element of responding to the rising demand among beauty consumers. The O2O (online-to-offline) model gradually drives the enterprise transforming it into a new business model. Digital marketing could not only develop a new market but also help to create a new CRM (Customer Relationship Management) system for other companies. We believe in the future and Chinese digital marketing will become more and more important in the following years.
Have you learned Chinese yet?
If you have any questions or require any information about our services, please do not hesitate in contacting us, our group of specialists will happily assist you.
This article was edited by Andres Arroyo Olson from 2Open.