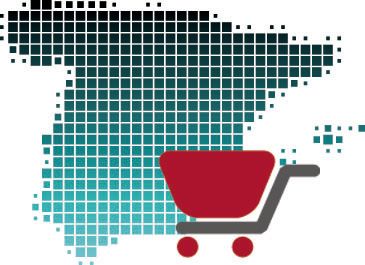 This post comes to underline the strategy played by Spain on EU's China policy, a role which has received virtually no attention so far, as well as the major reasons why Spanish e-commerce is potentially attractive for Chinese companies.
Spain´s strategy is based on promoting a political resemblance with China in order to gain a preferential economic treatment, a plot which has led to disparate results for both China and Spain.
---
A general view of bilateral trade
Even though both countries feel friendliness each other, they do so for different reasons: Spain emphasizes on economic benefits, while China is interested on Spanish political weight on the European stage.
In the last thirty years, Spain has tried to turn China into a key-partner, with mixed results in practice.
China is the 5th non-EU destination for Spanish exports
China is the 1st non –EU origin of Spanish imports
Spain is the 7th trade partner of China in –EU
China is the 11th destination of Spanish exports
China is the 14th destination for Spanish investment (less than 1% of total)
Spain is the 9th destination for Chinese investment in -EU
When looking at the evolution, some positive trends can be underscore:
Spain's exports to China have double to 4 billion in 2014
China's exports to Spain are growing since 2013
Both country´s exports are well diversified
After the financial crisis in the West, Spain has redoubled its efforts to trade with China. There is still a huge growth potential for both countries to further develop.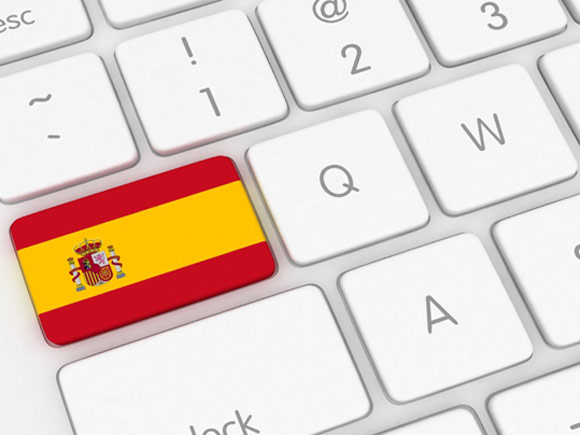 ---
Political understanding to facilitate Chinese future investment
The difficulties encountered by the Spanish companies in their landing in China contrast with the political temperance shown by Spain in its approach to China. The policy marked by Spanish governments regarding its Chinese counterpart has never shown significant differences: whether the party in power, Spanish policy has always been the same.
Far from stagnating, Golden Visa and Spanish Treasury Bonds are just two examples shown by Spain to attract Chinese investors, as well as the constant reminder of its close ties in Latin America.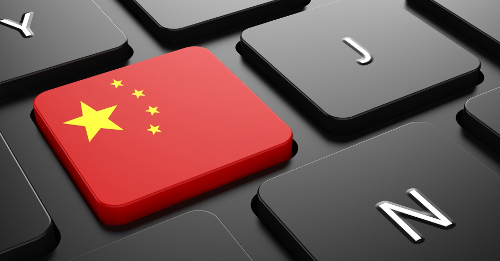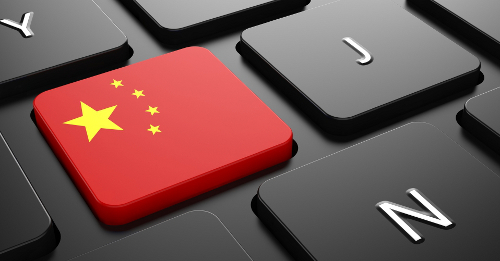 ---
The potential of Spanish E-commerce: an opportunity for Ecommerce business
Comparing to other mature markets, there are still loads of fresh chances to seize in the country: Spain's ecommerce market as a whole is relatively small.
According to the latest analysis –Ecommerce Europe ´14-, Spain is the largest Ecommerce market in Southern Europe, far from Italy (2nd) and Turkey (3th).
Around 60% of Spanish customers already shop online, spending on average € 900 per year. Moreover, more than the 60% transactions are cross-border: UE, US and China lead the Top-3.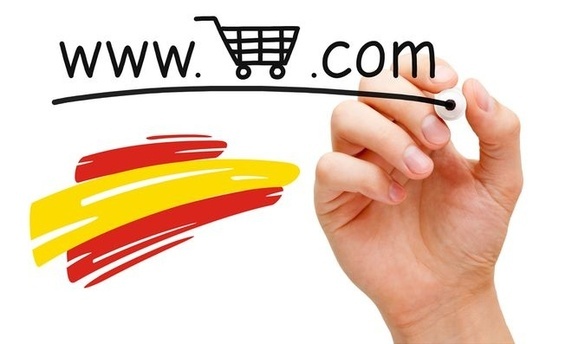 Its growth potential can be prompted by some aspect anyone thinking on approaching Spanish ecommerce should take into consideration :
Improvement in logistics
Take an advantage of the lower cost for online marketing
Customer acceptance of foreign W-shops
Spanish consumers distrust on websites, so offering a secure payment method is a must. Paypal is the favorite of more than half of buyers
Spain is the European leader in mobile usage, and keeps growing
Spain is the best gateway to test Portugal and Latin American countries
---
The bilateral relationship between China and Spain is one of our tasks. Thanks to our understanding of the market, in 2 Open we can help you boost your digital business.
Leverage the benefits both countries offer to your company,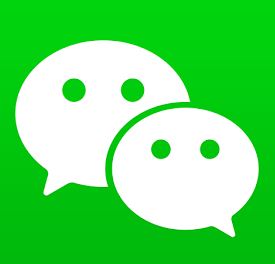 Interested on learning how to sell on Wechat? Keep reading!
On 20 April 2015, China Press and Publication Academy launched their first report based on Wechat platform. With over 600 million potential customers, the Report showed the great potential Wechat has for Brands to reach new audiences in Chinese market.
WeChat is one of the most important Social Media platforms in China. Set out as a communication tool, its newest strategy has been launching the most successful mobile eCommerce platform nowadays.
For foreign companies willing to sell in China, take advantage of the benefits of using Wechat gives them the chance to enjoy its simple access to products by an easy way to pay, and also get advanced information of their customers.  Its latest movements have become the app in a crucial tool to increase the consumer communication with brands and users engagement.
In order to continue adding value to our customers and launch a profitable business in China, we encourage you to go deeper on Wechat to take advantage of every opportunity that pops up in China environment.
What are the specific requirements to introduce a company on Wechat?
First, Create your Wechat Official Account:
Due to legal regulations, bear in mind that only Registered Companies in China are allowed to create their own Brand pages. Do not forget that in 2 OPEN we are authorized to apply for it!
Some are the steps you should be aware to create the account
Fill the basic information to feature your products and services. After receiving an Email activation,  configure your account.
Choose the most suitable account type from the two options provide for the public interaction, specified in the list below:

Once you are successfully registered, Wechat gives your company the chance to get more benefits and some interesting advantages to add value to your shop, like:
Exclusive identifier
Practical port
Customized menu
Account authenticity and security
Second, Third platform registration:
Although Wechat has its own shop, set one up via a third party platform can provide many interesting features, like:
It is free and easy to add new items
Gives the One-click sharing
Contributes to faster transactions and better security on them
Download a Mobile Ecommerce platform app according to your demands: To illustrate the post and due to the great importance of Weidan in China (微店), we will focus on it.  Baked by Tencent, Weidan is based on social relationships with no centralized entry-point. It gives you the chance to post your products information across a wide variety of Social Media platforms with an ultra-streamlined registration and administration processes which make it easier to sell your services and products.
You can create a new account or logo in your Wechat official account.
Input your phone number to bond with the account, and the app will send a code to your phone to pass the SMS verification.
Use the red-button to fully use the app
Bind with your Bank-card to paying and collecting operations
To set up your products, click on "My Products" and upload your product.
Add pictures and fill the description, price and requirements of your products or services.
Third, Link Weidian with your Wechat Official Account:
From the back office, go to Customize Menu to edit the content in structure.
Fourth, The final presentation to your Wechat account:
Click the Bottom Menu (only in case you enjoy a verified account!)

To get into the shop, you do reply the message. In latest version, when users enter the official account, an automatic message will present the options to follow the instruction to transfer into the Shop page.
---
And…done!
From the team we hope these tips will help you to understand further the latest trends in Chinese market.
At 2 Open we have the experience and knowledge to develop your business in China and become your guide to launch your business in Asia.
Still speculating about how to grow your business in China?
Get in touch with us!
This article was edited by Paula Vicuña from 2 Open.

All of us are very well aware of the magnitude of the Chinese online market and, although it is currently the largest e-commerce market in the world, most of the market share is owned by the Chinese e-commerce giant Alibaba. Nevertheless, there are some other companies that also want their piece of the pie and with their vertical e-commerce platforms they are starting to put up a fight. This article will focus mainly on those vertical platforms that constitute an important part of the diverse Chinese e-commerce environment.
In the 4th quarter of 2015 China's online transactions surpassed 644.38 billion RMB, the pie chart shown bellow contains the market share of the top ten Chinese e-commerce platforms: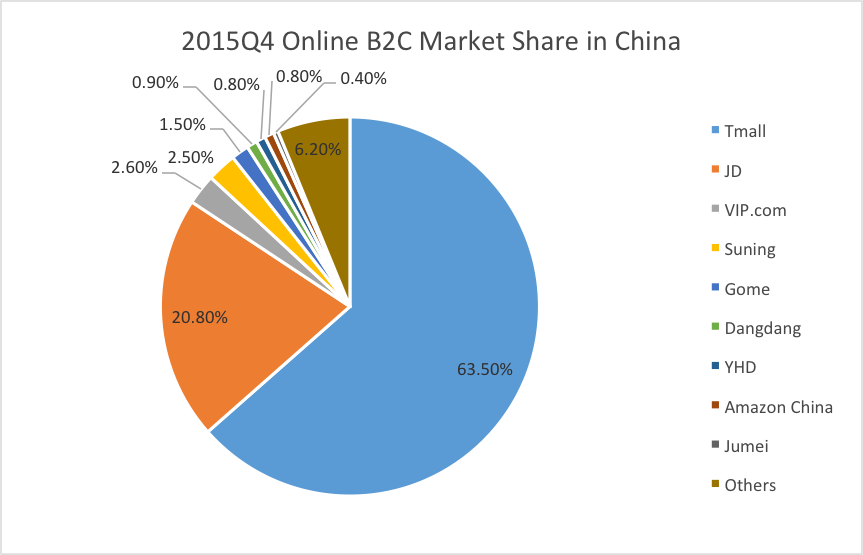 Before we continue, we first have to clarify the concept of vertical e-commerce. In this context, vertical refers vendors that offer goods and/or services that are specific to an industry or customers with specific needs. A vertical e-commerce platforms could be a independent brand or a specified category within a wide range of products such as clothes, 3C (computer, communication, and consumer electronics) products, cosmetics, etc.
If you already have a basic understanding of the Chinese e-commerce market, then you are probably familiar with JD.com. Currently the second e-commerce platforms in China after Tmall (owned by Alibaba Group), JD.com started as a 3C products vertical B2C website. Now, let us take a look at the market share of 3C products in China B2C online market: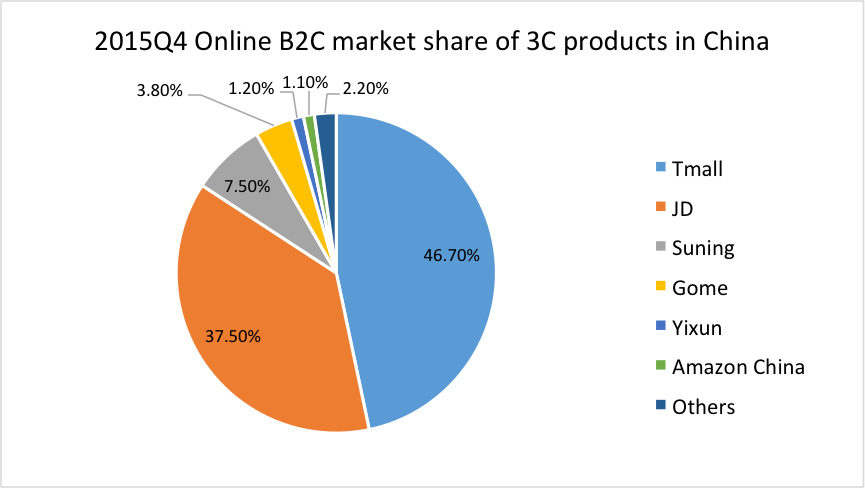 Although Tmall is still on the first spot, the difference in market share of JD.com is considerably higher than with regular products. Tmall and JD.com combined own more than 80% of the Chinese 3C products market. Suning, on the 3rd spot, and Gome, on the 4th, both also started specializing in 3C products, however, nowadays they have also diversified their range of products. At the end, it seems that there are no actual vertical platforms anymore.
To study the online market, we cannot miss the biggest category, clothes. In the 4th quarter of 2015, the total transaction of clothes is 235.57 billion Yuan, market share is shown below: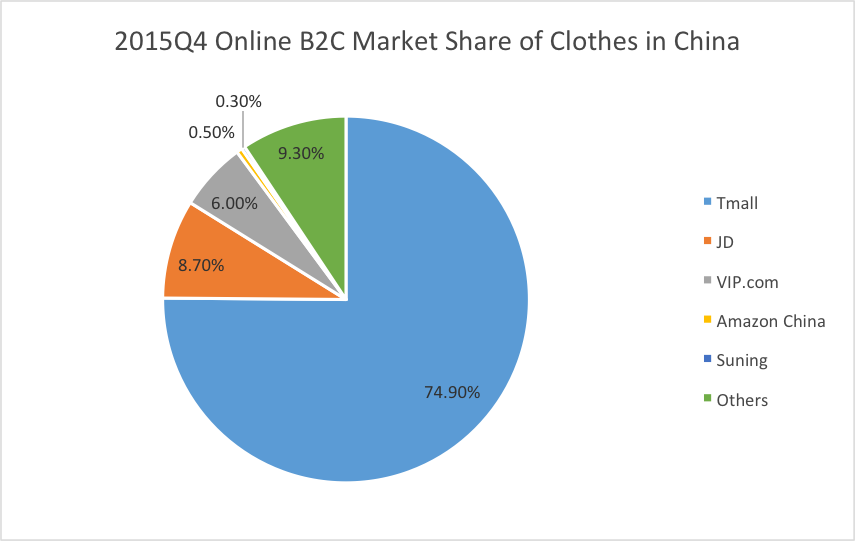 In this case, Tmall is leading with an absolute advantage of almost 3/4 of the market share. In this category, JD has 8.7% of the market share, VIP.com has 6%, and surprisingly others do not even have 1% individually, so from the big picture the vertical market for clothes is not active enough.
Another category that has had such a rapid growth we cannot ignore is the maternal and children products. Shown below is a pie chart containing China's maternal and children products market share figures of major competitors in the last quarter of 2015: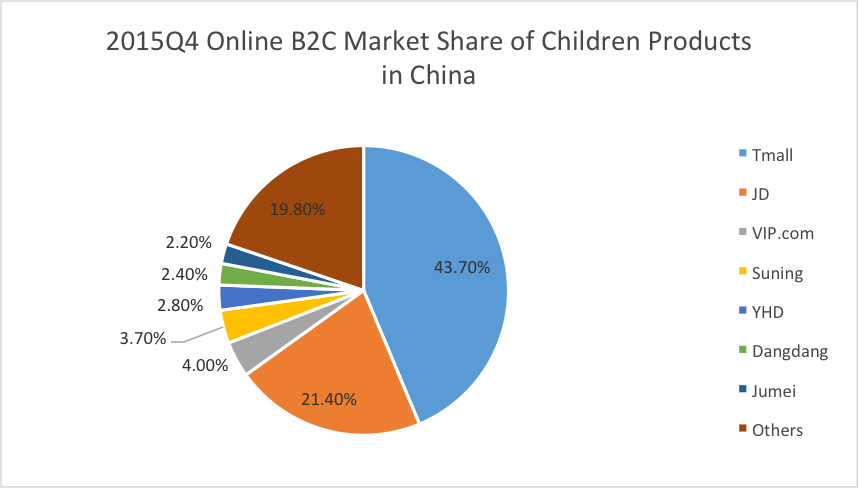 The most noticeable difference in comparison with other categories is the porcentage own by other platforms that adds up to almost 20 %. Although Mia, Beibei, Babytree and others are in that 20% it is still a big figure.  In this category Tmall and JD.com own less than 70 % of the Chinese clothing market, so we can say, to some extend, that there is still space for vertical players.
The next category is books and, even though the books total transaction was just 5.31 billion Yuan, the market share gives us a slice hope of competing with general platforms, in this case Dangdang is leading with 43.8%, and Tmall is only on the 3rd spot, just after JD.com.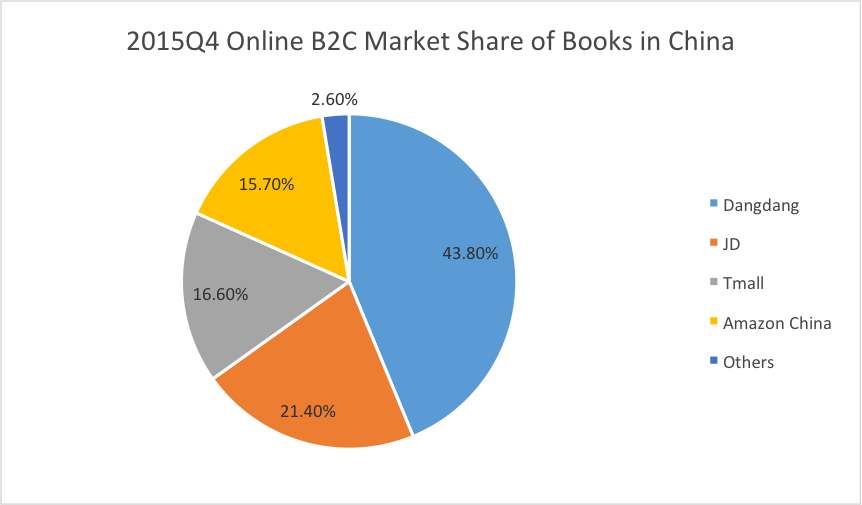 Finally, we cannot say all vertical online platforms are dead in China just because most of the categories are gloomy, there are still some worth a try, and you just need to know enough about the current situation. If you don't, luckily you saw this article, and you know 2open can always help you to find the right channels. So don't hesitate, contact us now!
All in all, even though Tmall dominates in the Chinese market, there is still space for other platforms to flourish. Vertical e-commerce platforms seem to be the wisest option, specify in a certain category, gather information about the current situation in the Chinese market, and carry out your business plan. If you need further information about the market, would like to help you find the right channels, or want us to set up your business in China, do not hesitate in contacting us. Our group of specialists will happily assist you.
This article was edited by Andres Arroyo Olson from 2 Open.
References.
All products data from
http://www.analysys.cn/yjgd/17684.shtml
3C data from
http://www.analysys.cn/yjgd/17676.shtml
Clothes data from
http://www.analysys.cn/yjgd/17678.shtml
Children products data from:
http://www.analysys.cn/yjgd/17680.shtml
Books data from: