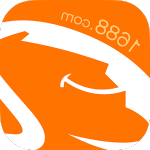 Interested in the B2B market? This article is  for those currently interested in launching a B2B ecommerce initiative!
Following our instruction of How to Sell B2B Online in China, from 2 OPEN we will guide you on the most famous Chinese B2B platform –1688.COM, to obtain leads for your company, giving you the basic information to learn how to deal with traffic.
In order to develop your sales in a business-to-business, it is important to analyze which actions can be done to improve your company results.
From 2 Open, we have listed for you some of the key-factors to make it easier your landing on B2B. With our help, your company will take a huge advantage of this big chance on Chinese market!
---
WHAT IS 1688.COM?
Alibaba is currently the biggest Chinese eCommerce company. It dominates the Chinese online marketing in various aspects and includes on its services: online transactions, payments, promotion, service and communication.
In order to focus on B2B market, Alibaba created a portal for domestic B2B trade in China, 1688.COM. In 2013, 1688.COM launched a direct channel that is responsible for $30 million in daily transaction value.
After 14 years development, now Alibaba leads B2B into the full digitalization in China and it is responsible of the great revolution B2B has experienced in China.
HOW TO USE 1688.COM?
As the domestic B2B portal in China, 1688.COM has millions of vendors but does not support English version for foreign users.
In order to improve your position and make you easier, from 2 OPEN we will give you the specific information of acquiring traffic within 1688.COM.
To provide an accurate sketch for you and due to its importance, we have chosen Solostocks as the example below:
First, Go to the homepage of 1688.COM: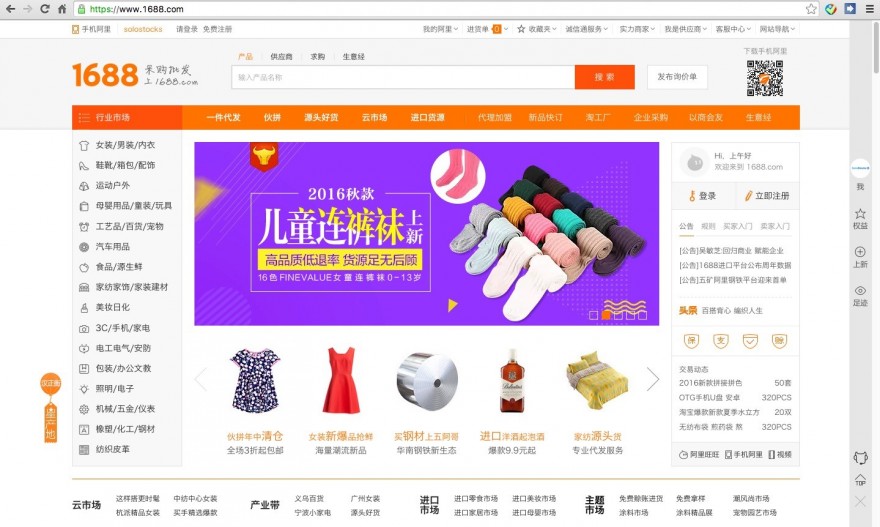 Second, Create Solostocks's online shop in 1688.COM
After the registration, you can access it with Solostocks.1688.com.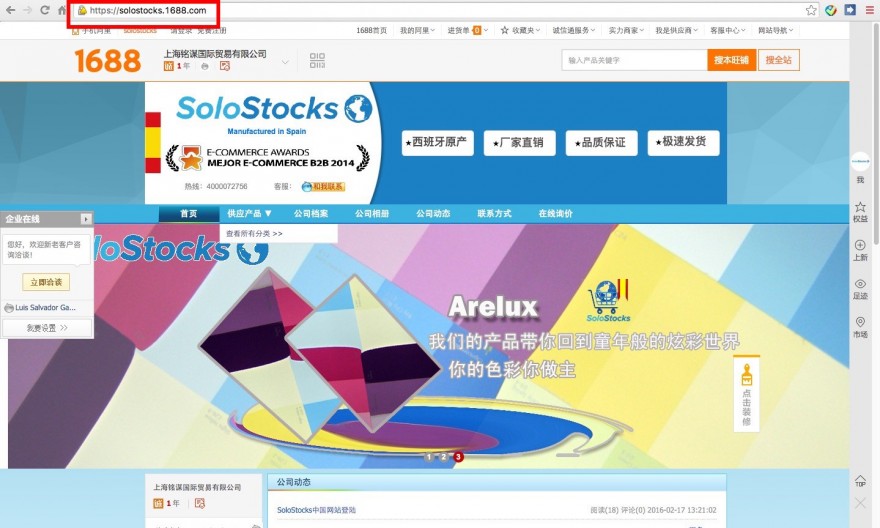 When the online shop settles down, we can optimize the traffic through strategies within Solostocks.1688.com. The internal optimization of the online shop could bring your company more traffics and leads.
From 2 OPEN, we suggest you six strategies to apply to leads generation, such as:
In proper way, product release can fulfill the product category and increase Page View (PV).
Product quantity is not the key point for B2B selling but is the product category, title and description. Remember the more detailed the information is, the more opportunities for searching there will be.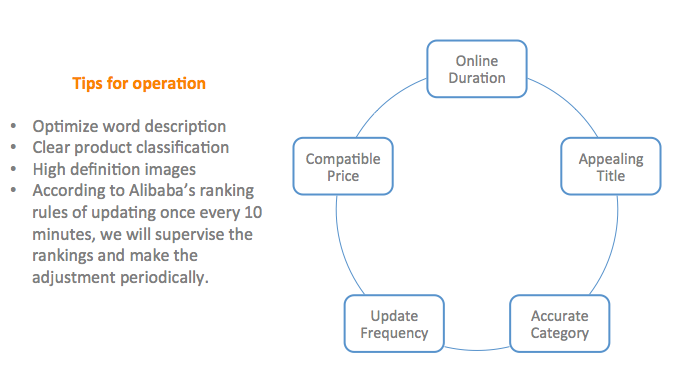 Shop decoration is aiming to provide a good visibility to viewers: useful information in organization will fully convey to viewers and improve the CTR also display structure has to be recognizable and practical.
Key modules include logo, navigation, introduction, display, share/favorite, communication etc.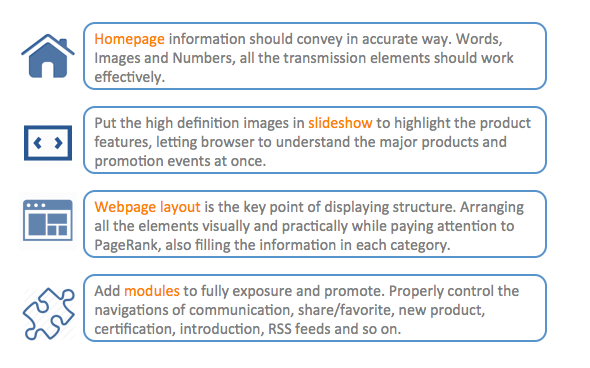 Text content includes all the product descriptions and introductions.
It is crucial to pay attention to Key-words combination: they will be the best SEO to boost traffics: the more key words are recorded, more exposures there will be.
Refined and targeted content can also lift the ranking and improve the user experience.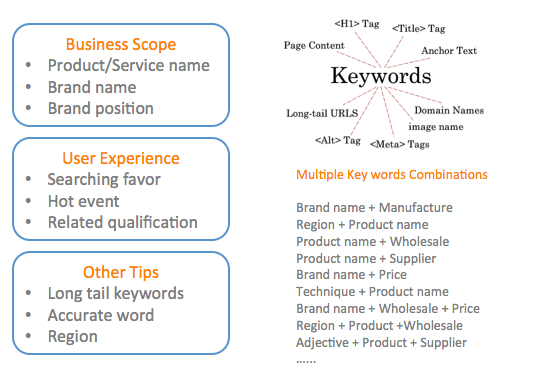 Tool assistance from 1688.COM's back office can facilitate Solostocks.1688.com promotion. It contains various functions to assist the system management, which provides a better performance in internal optimization.
Tools for managing product, KPI, finance, transaction and marketing would optimize the operation.
Here we explain you three detailed functions which we consider especially important: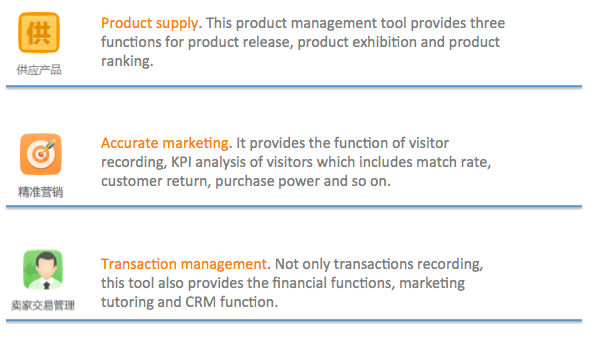 By the way, there are a plenty other tools provided by 1688.COM that you can find. You just need to discover them all and find the one which better suits you!
The secondary platform of 1688.COM is called baike.1688.com. It is professional and dedicated to provide customers the solutions and commercial knowledge in business by means of questions and answers to solve business problems.
In this business platform, users can get connections and share their experiences. Do not forget to:
– Use proper key words to find out the related questions
– Answer professionally to promote Solostocks.1688.com
– Enhance the account activity and develop the business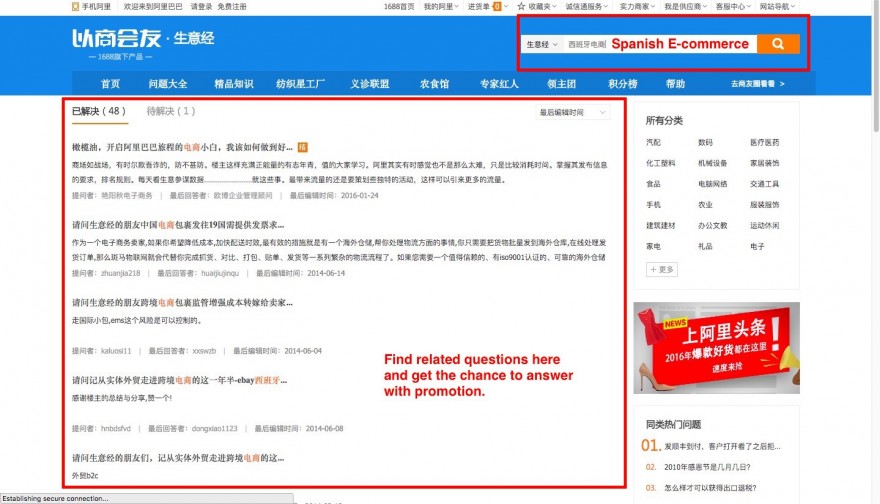 Paid service in 1688.COM can effectively promote the brand and product in bidding ranking.
The most popular ways of SEM in 1688.COM are WXB (pay-per-click) and Diamond Booth (slideshow on the homepage). Both of them strongly facilitate the brand and product promotion in direct way.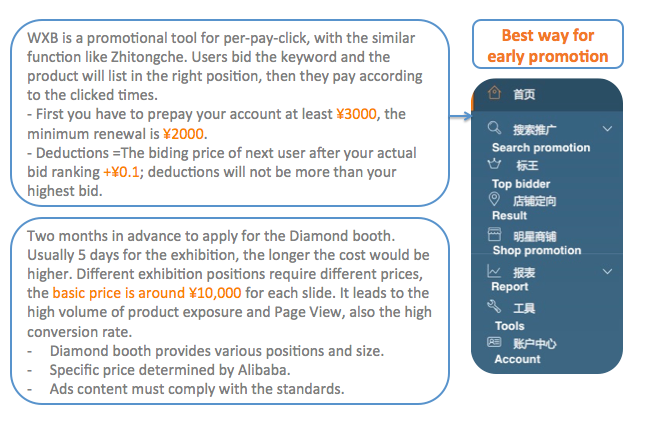 ---
Actually, 1688.COM provides various means for sellers to promote its sales.  Here we summarize some main tips to implement the internal optimization in a comprehensive way to obtain the best results!
Make sure the sufficient and high quality information can be provided to browsers.
Transfer the product or brand information in all directions to browsers accurately and immediately.
High definition pictures can highlight the brand quality also beatify the online shop.
Keep the effective communication and CRM during the whole sales process.
Paid service can provide the better performance in brand exposure by bidding ranking.
---
If you are interesting in doing B2B in China through a more native approach, 1688.COM would be the most effective and direct way to help you face to the Chinese customers.
Still interested?
Keep checking our blog and contact us if you have any questions. 2 OPEN will happily assist you!
---
This article was edited by Paula Vicuña.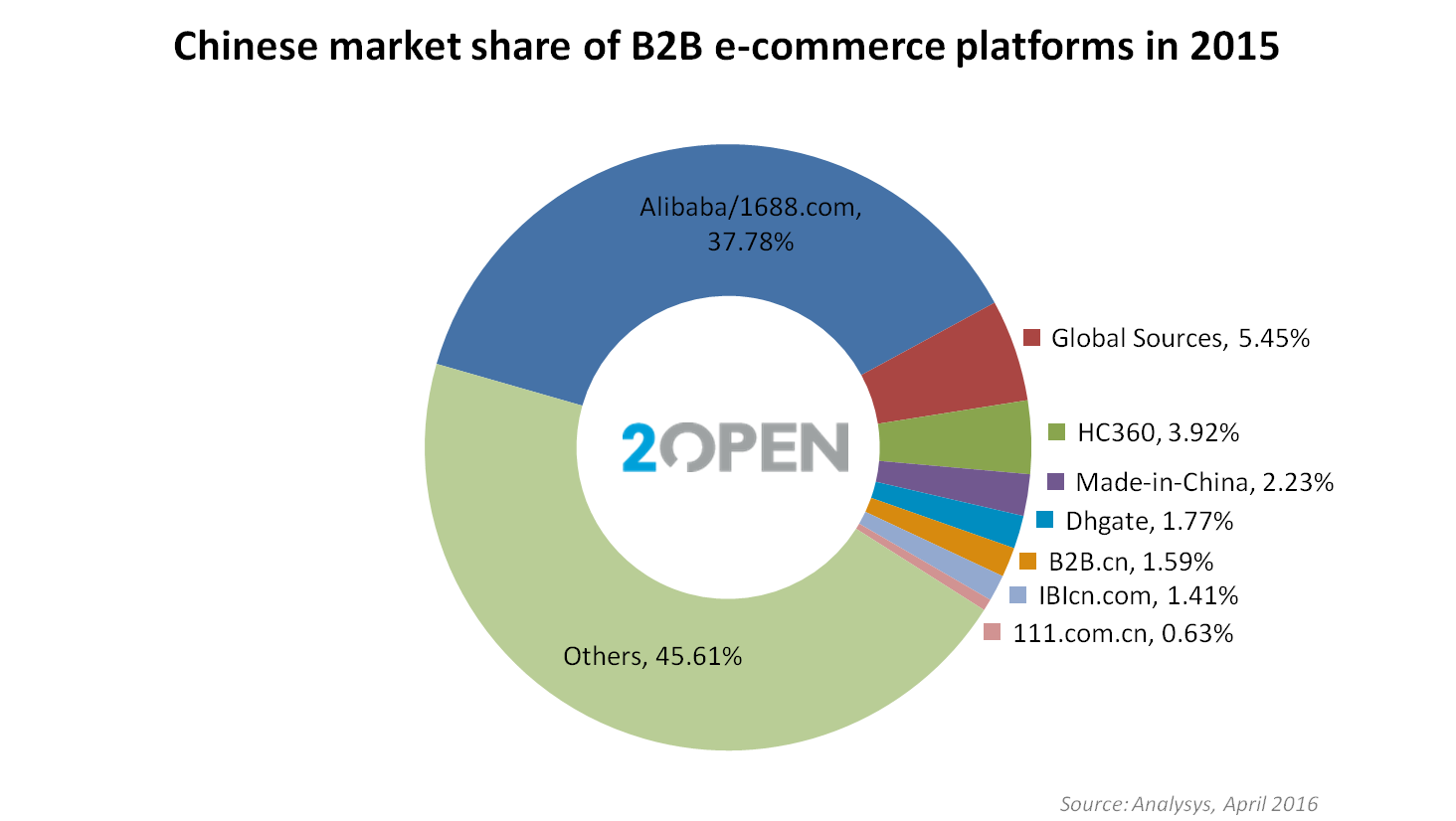 Last week we were in an event in Valencia organized by our partner, the Valencia Chamber of Commerce, in which we shared our knowledge about the B2B online business development in China in front of a full auditorium.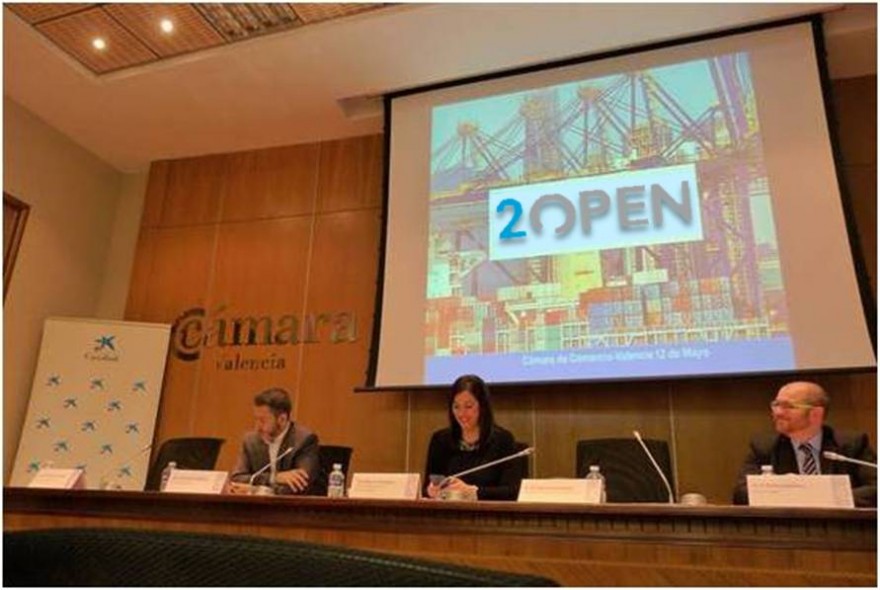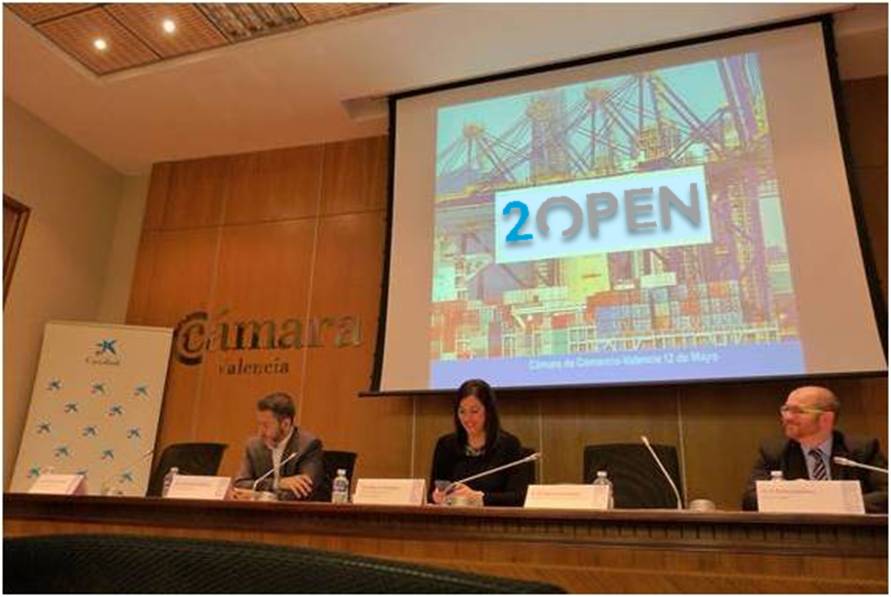 We were glad to share the "stage" with 2 of our best clients:
– Amvos Consulting: leading digital marketing agency in Europe and South America
– SoloStocks: best B2B online platform in Spain currently present in over 12 countries in Europe and South America
And that is what we talked about:
– WHICH ARE THE MAIN ONLINE B2B PLATFORMS IN CHINA?
As we can see in the top image chart, the clear winner in the B2B Chinese market is Alibaba with its domestic platform 1688.com which absorbs 37.78% of the market share as per April 2016, followed far behind by Global Sources (5.45%), HC360 (3.92%), Made-in-China (2.23%) and DHGate (1.77%).
– Alibaba.com/1688.com: Alibaba.com is the leading platform for cross-border wholesale trade, serving millions of buyers and suppliers around the globe and 1688.com is the main B2B marketplace for domestic China trade among small and medium enterprises.
– Global Sources: It is a leading B2B media company and a primary facilitator of trade with Greater China. More than 1 million international buyers, including 95 of the world's top 100 retailers, use these services to obtain product and company information to help them source more profitably from overseas supply markets and generate sales leads and win orders from buyers in more than 240 countries and territories.
– HC360: is the third most important domestic B2B e-commerce operator in the People's Republic of China. With its professional information services and advanced internet technologies, it has established a reliable demand and supply platform for SMEs, and has been providing them with complete business solutions over the past 22 year.
– Made-in-China: was developed and is operated by Focus Technology Co., Ltd. Focus Technology, is a world leading B2B portal, specializing in bridging the gap between global buyers and quality Chinese suppliers.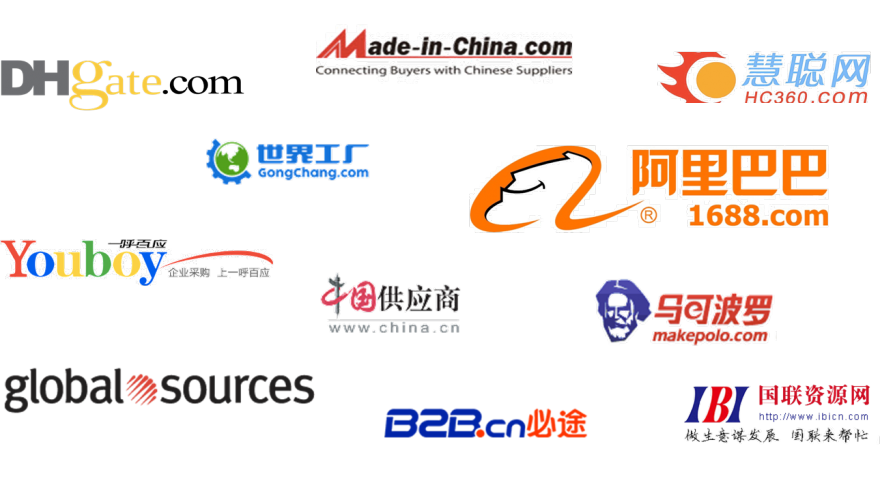 Since China's policy of reform and economic openness, the B2B traditional model unlocked unprecedented levels of growth and development. With the Internet booming and the transition of trade models taking place, most industries have enrolled in the online B2B revolution to develop their brand. For this reason, hundreds and hundreds of new B2B platforms are born trying to differentiate from each other and creating that way an unparalleled war. And we see new attempts to get to the top of this pyramid, day in and day out, as they all want to get a piece of the huge cake.
– BUT, WITH SO MANY OPTIONS… HOW CAN I CHOOSE THE RIGHT PLATFORM?
We list for you the key factors that should be taken into account in order to select the best platform for your brand to sell your products in a business-to-business model in China:
– Establishments costs: Lower implementation costs through simple installation and integration and unproblematic expansion options. The vast majority of wholesale online trading platforms in China are "free" to use. You can create your own shop and list your products. That way you have your own B2B storefront in China; but how will your products get noticed within the others? All these places provide different visibility packages. Call it gold member, golden supplier or whatever other name you can imagine; the important thing here is to compare these packages and what is exactly what they offer.
– Volume: What is the number of suppliers and competitors? What is the traffic volume generated in the platform? In this area, 1688.com is the clear winner from both sides. Anyway, there are also other vertical platforms that might be worth checking.
– Chinese partner: In order to create a shop and list your products in any Chinese domestic B2B platform, you will need to go hand in hand with a Chinese partner as you cannot use your foreign business licence to sell products within greater China. Here it appears the classic dilemma: Chinese partners are usually very opaque and don't like to share any kind of information. 2 Open, as a Chinese and Spanish company, can be the right Chinese partner with modern European-style management and creates a totally transparent relationship with its customers. We want to succeed with you and not the other way around.
– Promotional tools: It is important to analyze which actions can be done in order to get more traffic to your shop. The most of them offer performance marketing actions in a CPC or CPM model, both for keyword optimization and display actions. The prices are usually high and a study should be done to assure that the ROI is the right one.
In 2 Open, we usually recommend to do a market research that can lead us to take the best informed decisions: channel/s, range of prices, target audience, marketing budget and promotional efforts, potential return of investment, etc.
In another post we will show you how to optimize traffic within 1688.com to obtain more leads, so keep checking our blog and contact us if you have any questions. 2 Open can help you succeed in the Chinese B2B online world!