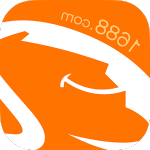 Interested in the B2B market? This article is  for those currently interested in launching a B2B ecommerce initiative!
Following our instruction of How to Sell B2B Online in China, from 2 OPEN we will guide you on the most famous Chinese B2B platform –1688.COM, to obtain leads for your company, giving you the basic information to learn how to deal with traffic.
In order to develop your sales in a business-to-business, it is important to analyze which actions can be done to improve your company results.
From 2 Open, we have listed for you some of the key-factors to make it easier your landing on B2B. With our help, your company will take a huge advantage of this big chance on Chinese market!
---
WHAT IS 1688.COM?
Alibaba is currently the biggest Chinese eCommerce company. It dominates the Chinese online marketing in various aspects and includes on its services: online transactions, payments, promotion, service and communication.
In order to focus on B2B market, Alibaba created a portal for domestic B2B trade in China, 1688.COM. In 2013, 1688.COM launched a direct channel that is responsible for $30 million in daily transaction value.
After 14 years development, now Alibaba leads B2B into the full digitalization in China and it is responsible of the great revolution B2B has experienced in China.
HOW TO USE 1688.COM?
As the domestic B2B portal in China, 1688.COM has millions of vendors but does not support English version for foreign users.
In order to improve your position and make you easier, from 2 OPEN we will give you the specific information of acquiring traffic within 1688.COM.
To provide an accurate sketch for you and due to its importance, we have chosen Solostocks as the example below:
First, Go to the homepage of 1688.COM: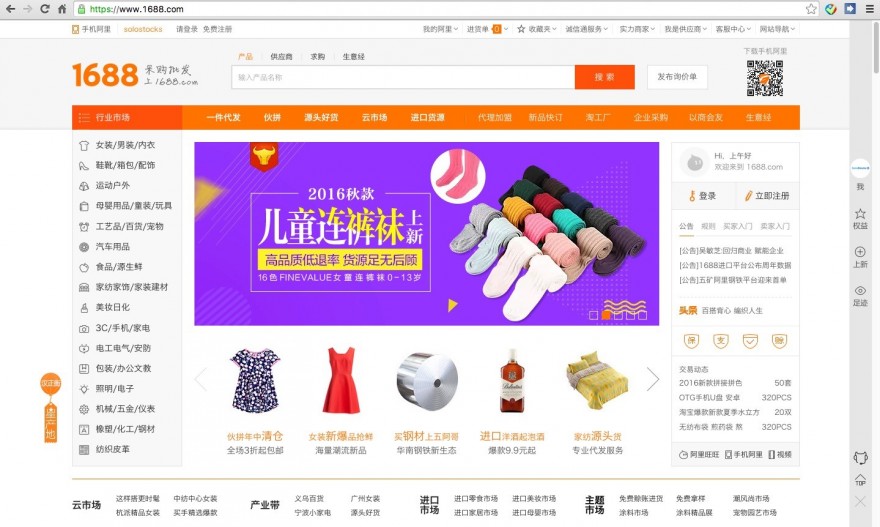 Second, Create Solostocks's online shop in 1688.COM
After the registration, you can access it with Solostocks.1688.com.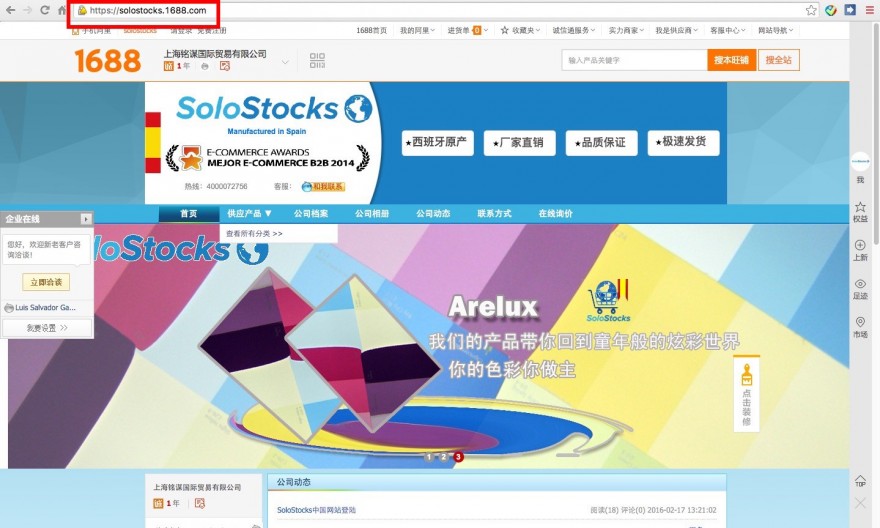 When the online shop settles down, we can optimize the traffic through strategies within Solostocks.1688.com. The internal optimization of the online shop could bring your company more traffics and leads.
From 2 OPEN, we suggest you six strategies to apply to leads generation, such as:
In proper way, product release can fulfill the product category and increase Page View (PV).
Product quantity is not the key point for B2B selling but is the product category, title and description. Remember the more detailed the information is, the more opportunities for searching there will be.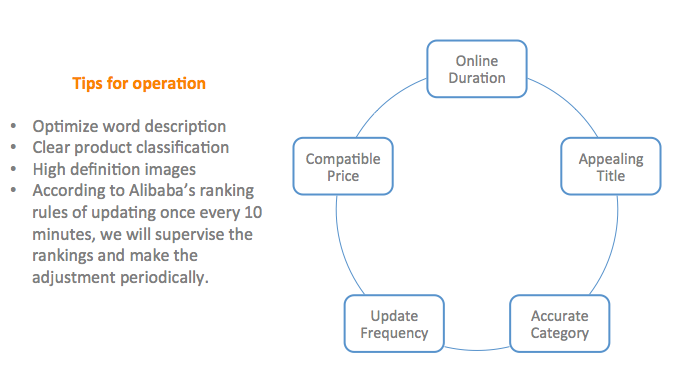 Shop decoration is aiming to provide a good visibility to viewers: useful information in organization will fully convey to viewers and improve the CTR also display structure has to be recognizable and practical.
Key modules include logo, navigation, introduction, display, share/favorite, communication etc.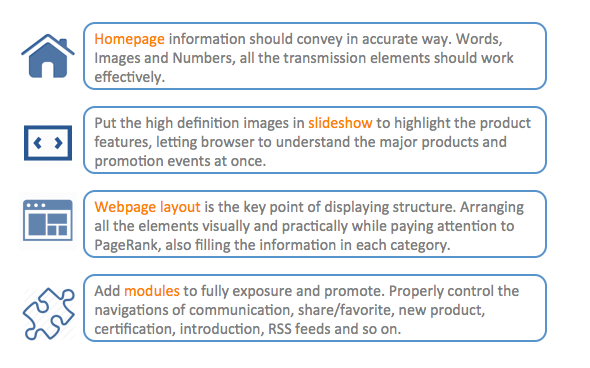 Text content includes all the product descriptions and introductions.
It is crucial to pay attention to Key-words combination: they will be the best SEO to boost traffics: the more key words are recorded, more exposures there will be.
Refined and targeted content can also lift the ranking and improve the user experience.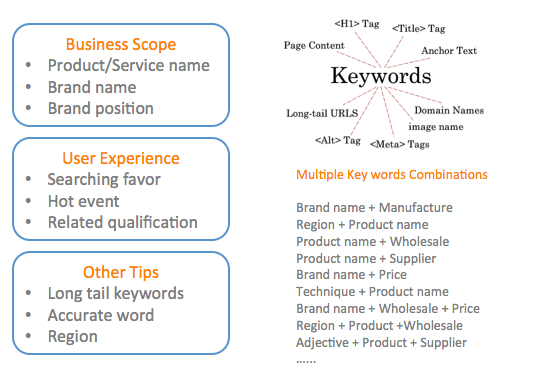 Tool assistance from 1688.COM's back office can facilitate Solostocks.1688.com promotion. It contains various functions to assist the system management, which provides a better performance in internal optimization.
Tools for managing product, KPI, finance, transaction and marketing would optimize the operation.
Here we explain you three detailed functions which we consider especially important: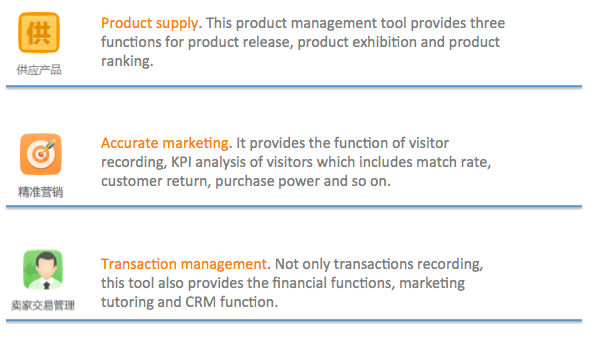 By the way, there are a plenty other tools provided by 1688.COM that you can find. You just need to discover them all and find the one which better suits you!
The secondary platform of 1688.COM is called baike.1688.com. It is professional and dedicated to provide customers the solutions and commercial knowledge in business by means of questions and answers to solve business problems.
In this business platform, users can get connections and share their experiences. Do not forget to:
– Use proper key words to find out the related questions
– Answer professionally to promote Solostocks.1688.com
– Enhance the account activity and develop the business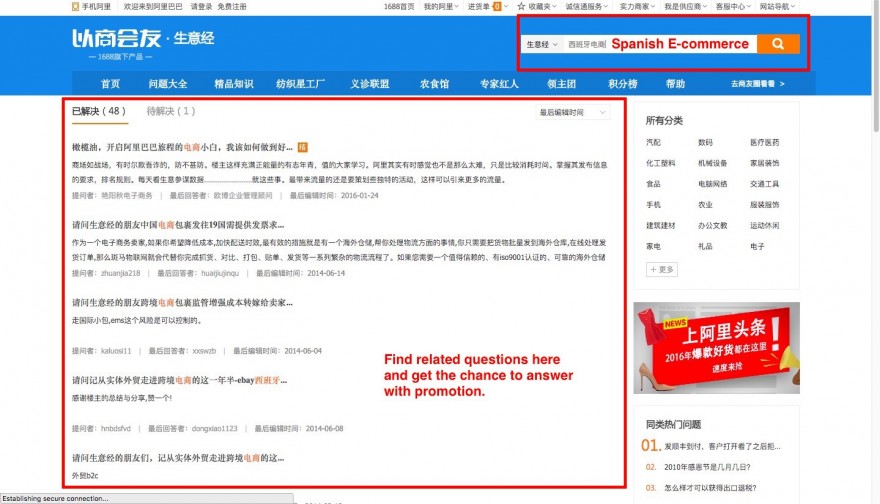 Paid service in 1688.COM can effectively promote the brand and product in bidding ranking.
The most popular ways of SEM in 1688.COM are WXB (pay-per-click) and Diamond Booth (slideshow on the homepage). Both of them strongly facilitate the brand and product promotion in direct way.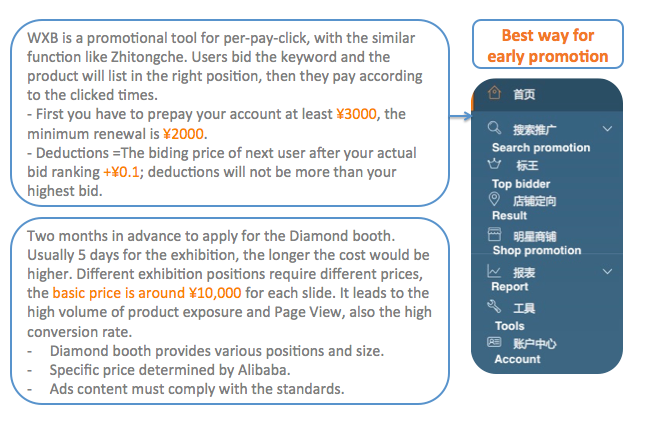 ---
Actually, 1688.COM provides various means for sellers to promote its sales.  Here we summarize some main tips to implement the internal optimization in a comprehensive way to obtain the best results!
Make sure the sufficient and high quality information can be provided to browsers.
Transfer the product or brand information in all directions to browsers accurately and immediately.
High definition pictures can highlight the brand quality also beatify the online shop.
Keep the effective communication and CRM during the whole sales process.
Paid service can provide the better performance in brand exposure by bidding ranking.
---
If you are interesting in doing B2B in China through a more native approach, 1688.COM would be the most effective and direct way to help you face to the Chinese customers.
Still interested?
Keep checking our blog and contact us if you have any questions. 2 OPEN will happily assist you!
---
This article was edited by Paula Vicuña.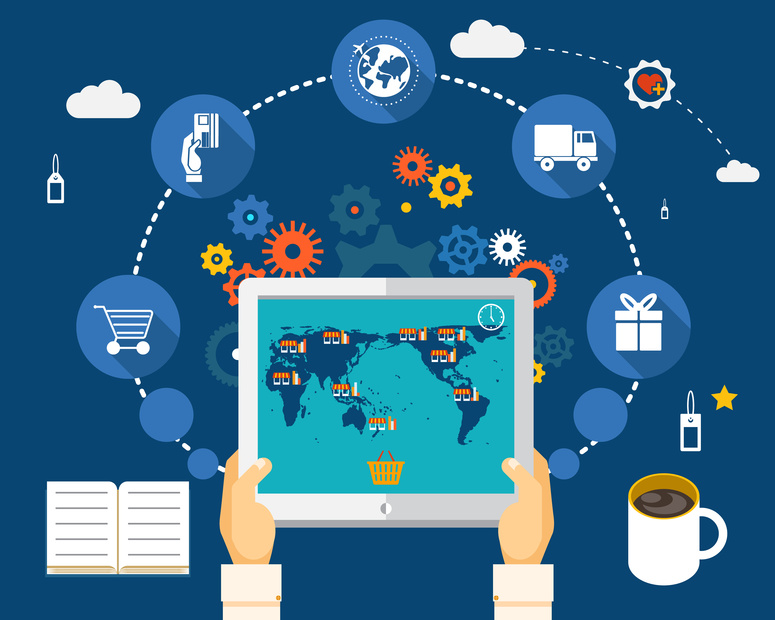 Nowadays cross-border ecommerce is in the rise in China. It seems to be a viable and legal way to import or export products into or out of China avoiding significant tariffs and quotas. Apart from the traditional model of cross-border ecommerce, that is, overseas online shopping, we have classified 4 specific operational models of cross-border ecommerce according to their different business schemes.
Overseas online shopping
Direct delivery platform
Self-support B2C model
Guide and rebate shopping model
1. Overseas online shopping
Overseas online shopping is perhaps the one that is most familiar to Chinese consumers. It is a sort of procurement service for people who want to buy the overseas products. Consumers purchase the products from foreign retailers or individuals on web pages or mobile apps, and then they get the product by transnational logistics. There are two major ways so accomplish this.
Online shopping platforms
One of the main points an online shopping platform has to do is to attract third-party sellers who meet the logistics requirements. Sellers settled in the platform usually have overseas purchasing power; they regularly purchase the specific product based on consumers' needs and after the order is received from the customer they transport or mail the product directly to China. This is a typical example of a C2C model, the online platform profits from access fees, add-value services, and transaction fees imposed to the seller.
Representative platforms: G.TAOBAO.COM/JD WORLDWIDE/USASHOPCN.COM
Wechat "moments"
"Moments" in Wechat is becoming a popular way for promoting products online. Although its warranty is mostly based on social relationships, fraud could also occur. With customs restrictions the service would be regarded as smuggling, so there still time to wait for the integration of it in the overseas online shopping environment.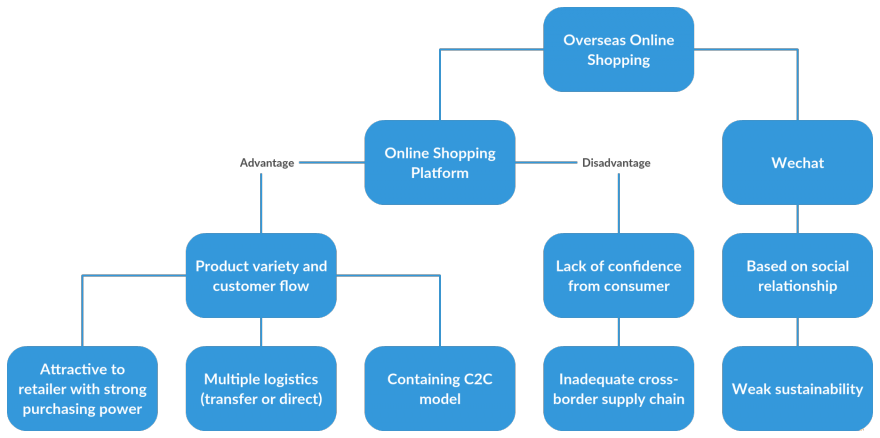 2. Direct delivery platform
Direct delivery platform, also named "dropshipping", is a model in which the ecommerce platform sends the order from the customer to the manufacturer or wholesale directly, then the latter delivers the product to the customer according to the information provided, it is important to notice that the product is sold with its retail price. Because the end-supplier is the brand vendor/factory, this model could be considered a B2C model. In this case, most of the profit for the direct delivery platform comes from the price difference between the retail price and the wholesale price.
Representative platforms: TMALL.HK/YMATOU.COM/KJT.COM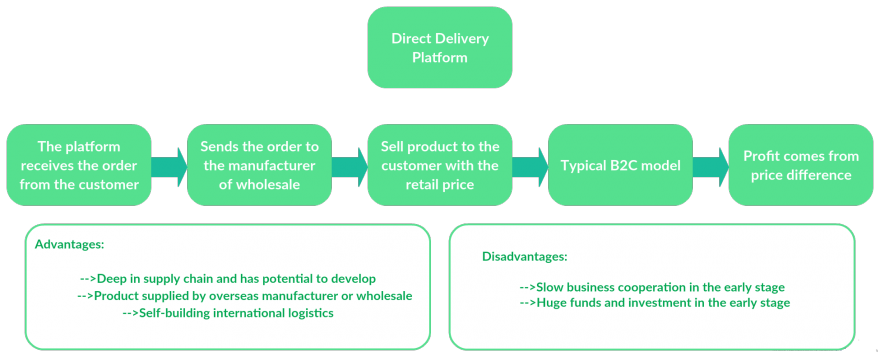 3. Self-support B2C model
When it comes to the self-support B2C model, most products need to be prepared by the online platform before shipping. There are two types of self-support B2C platforms:
Comprehensive self-support B2C platform
For now the only leading comprehensive self-support B2C platform is YHD.COM, which is supported by Amazon and Wal-Mart.
Vertical self-support B2C platform
This model means that the platform focuses more on a certain area to choose the product category, such as food, luxury product, cosmetic or clothing.
Representative platforms: WOMAI.COM/MIA.COM/SASA.COM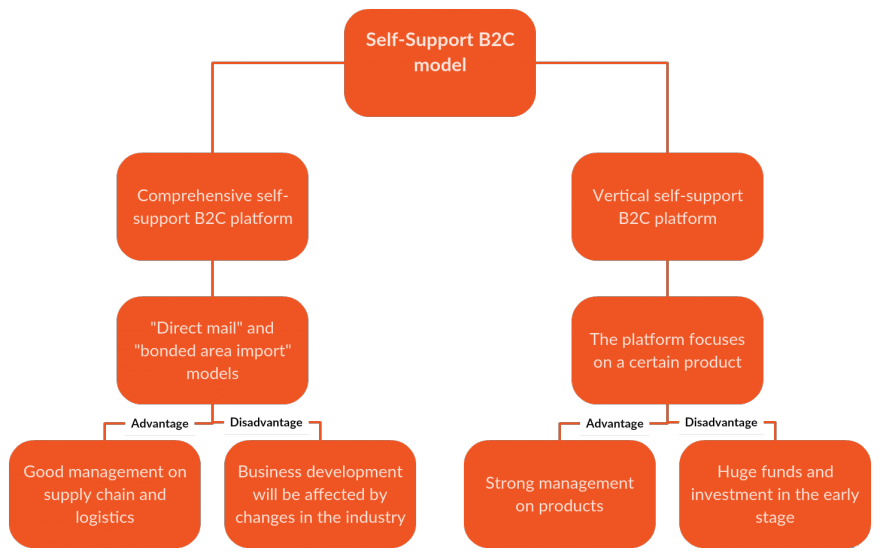 4. Guide and rebate shopping model
For a simpler understanding we will split this topic into two parts, the conduction part and the transactional part. Conduction refers to all the means and channels through which customers are led to the product or service: news, online forums, blogs, or ads, all constitute a part of conduction and focus on attracting the consumer. As for the transactional part it involves the submission of the order to an overseas retailer and any monetarily transaction that comes with it.
In order to guarantee product quality and adequacy, this types of platforms usually cooperate with an overseas ecommerce group. Normally the guiding/rebating platform in China joins their pages with the overseas ecommerce pages and once the transaction is done, the overseas ecommerce gives about 5%-15% commission rebate to the Chinese platform. Later the guiding/rebating platform refunds part of the commission to the customer.
One of the main advantages of this model is that the integration of new products and the development of the business itself are relatively simple. Also, because it is a joint between two online platforms, the conduction part results more rewarding since both parties can attract a huge number of customers in a short amount of time and meet the customers' demands.
As for the disadvantages, long-term projects might be a bit more difficult to carry out since the business depends on two separate ecommerce platforms. Management of the supply chain could also become a problem due to distance and time zone differences.
Representative platforms: ETAO.COM/HAITAOCHENG.COM/123HAITAO.COM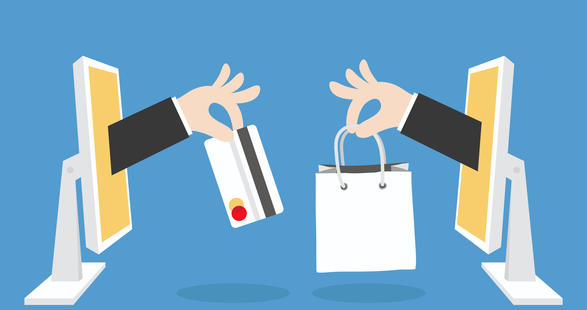 Cross-border negotiations seem to bring a lot of advantages if one is intending to do business with China. Choosing the right model for your business' needs is crucial for the growth and success of it. Here at 2Open we have plenty of experience with these types of business models and our team of specialists will be more than happy to assist you with any enquiry that you might have.
This article was edited by Andres Arroyo Olson from 2Open.